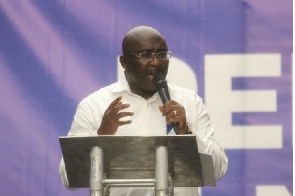 Has any Ghanaian with a good thinking ability ever ask this question: why Ghana is a land of wealthy resources than many European countries, yet, is far behind development? We can't continue blaming the colonial masters six decades after independence, therefore, the answer is Ghanaian politicians are corrupt, inefficient and lazy. I will repeat, Ghanaian politicians are lazy and corrupt.
This is not the first time I am writing about the useless bragging of Vice-President Bawumia and it will not be the last because Ghanaians have eyes to see what the government is doing, therefore, Bawumia, it's not necessary to blow your trumpet to Ghanaians what Akufo Addo government has achieved. In fact, that bragging rather signifies failure.

Ghanaians continue to praise shoddy works, so projects in the country do not last, Ghanaians continue to worship and praise corrupt politicians, therefore corruptible activities in the country have increased with impunity. The Ghanaian government refuses to clean its dirty health-threatening hazards and rather promoting tourism, Lord have mercy on the poor suffering Ghanaians.

Everything is insanely falling apart in the country, yet when you write about it people without conscience and integrity are those to attack with insults. Your insult is encouraging me to write daily without ceasing because I can clearly see the impact of discomfort taking its toll on you.

Go to Brussels, the capital of Belgium, you will be surprised to see many of the Member of Parliaments and other politicians come to work on bicycles. They have luxurious vehicles, yet some prefer to use bicycles because they believe in human efficiency, development, and job creation, not riding in expensive cars.

How many jobs has Akufo Addo, Bawumia and the over 100 ministers have created? These ministers receive fat salaries, with free bonuses, including free fuel to fill their vehicles but what do they do for the suffering Ghanaians?

If Ghanaians want to know what effective leadership is, I pray that each one of you once in your life can be able to visit Europe. If you do, nobody will vote for any Ghanaian politician again.
The fact is the European government does never rest on its oars. European leaders are not lazy like Bawumia and Akufo Addo. They don't brag like the lazy Finance Minister, Ken Ofori Atta and the pompous-arrogant Minister for Education, Matthew Opoku because they are intellectually disciplined and intelligent.

EU leaders sit the whole year planning what to do next to give its citizens' best medical care, education, and employment.

In 2018, France created 188,000 jobs and last year alone created additional 260,000 jobs. Thus, unemployment reached its lowest point in ten years in mid-2019. Bawumia, how many jobs has your government created after three years in power? How many banking institutions have risen after almost every bank collapsed in the country?

In Belgium, a few weeks ago, Belgium Prime Minister, Charles Michel, after five years in office, decided not to finish his second term. His decision to step down after five years is to begin a new appointment in 2020, offered by the European Union.

Charles Michel stepped down as Belgian prime minister, after creating 290,000 new jobs. Bawumia, you brag too much, please, use that time you are wasting to brag to create employment for the frustrated youth who are dying in the Mediterranean every year.

Ghana is richer than many European countries, so why the country is not flourishing? Someone might say because it is an African country, so are Africans stupid, I will ask? Frankly speaking there is corruption also in Europe but the politicians are not deeply corrupt like Ghanaian politicians and above all, they are not lazy like Ghanaian politicians.
The Ghanaian government has no brain to utilize the resources, instead, the government keeping piling debts on the country and when people criticize, the president which any sensible words have never come from his mouth said, "Even America borrows," but American leaders are not stupid like Ghanaian leaders, so they know what they do with the money, while Ghanaian leaders put the money in their pockets.

Akufo Addo government talks about projects, including a Cathedral but in reality, the finances of those projects, whether executed or not, have especially enriched a privileged few close to the government and his family, after receiving taxpayers' money.

Why are many joining political parties in Ghana, especially the NPP? Because politics under Akufo Addo's government is a lucrative business built on the foundation of corruption, tribalism, and nepotism.

Verily, verily, I say to you, the time that Ghanaians will cry forty days and forty nights hasn't come yet, but it will soon come. However, remember that those Ghanaians in the Diaspora, praising the inefficient government in the country can't help you because they are pure liars and hypocrites, enjoying better lives in where ever they are.

So Bawumia, instead of making too much noise on inefficiency as efficiency, try to revive the depreciating economy of Ghana because you claim to be an economist and above all, try to take a special course on how to create jobs for a country because the pumpkin heads of the NPP politicians are virtually empty of intelligence and ideas.