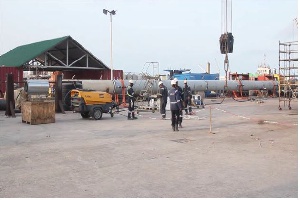 Wed, 30 May 2018 Source: Eye on Port
The Port of Takoradi continues to take giant steps towards achieving its quest to becoming the dominant oil and gas services hub in the West African region.
This follows the fabrication of the first offshore gas jumper to aid the activities of the oil and gas industry by Belmet 7. The offshore gas jumper will be used to transfer gas from the oil fields.

Belmet 7, is a fabrication company in the construction industry for oil and gas with projects in Sekondi-Takoradi.

In 2016, an export gas manifold and a suction pile were constructed at the Takoradi port fabrication yard for Tullow Oil Ghana limited.

The General Manager of Belmet 7, Loic Chateau said the fabrication of the offshore gas jumper was successfully done wholly by Ghanaian welders, which took three weeks to complete without any injury.

"It is the first time we have been doing this kind of fabrication here inside Takoradi Port, at Belmet 7 yard. It is the first time also we welded this type of steel, because it is a special alloy. The inside of the pipe is made of stainless steel, whereas the outside of it is carbon steel. So, it is a very specific wielding which was executed by Ghanaian welders working permanently for Belmet 7," Loic Chateau, the General Manager said.
The Oil and Gas Manager of Takoradi Port Captain Daniel Nii Annan Quartey said management is re-developing the Takoradi Port to reposition itself to offer goods and services for the oil and gas Industry.

"What this means to Takoradi Port is, when stakeholders enter the Takoradi Port oil and gas hub, they have whatever they need to work offshore in the upstream oil and gas industry which is interfacing the downstream," he said.

He said the equipment would have been imported if it hadn't been fabricated in Ghana and advised stakeholders who are into the oil and gas production to source services from the Takoradi Port.

"Otherwise it would have been imported but we were able to convince the clients with the success story of Belmet 7, to let them know that this can be constructed here," he said.
Source: Eye on Port