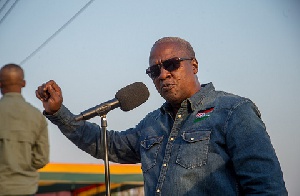 By Rockson Adofo
Who at all is Ben Ephson? He is not a professional journalist but a charlatan pollster who has no specifically laid down criteria for conducting his opinion polls.

For predicting that President Mahama will win the presidential election by a majority of 52%, what did he base his conclusions on? Did he factor in the unfolding plots by the NDC to rig the elections?

The NDC are training some people who will dress up like soldiers in war mufti, armed with AK47 assault rifles, and will be sent to the polling stations in the NPP strongholds on the Election Day with intent to threaten the voters.

Vehicles loaded with weapons and ammunitions have been intercepted in Kumasi. All these are allegedly meant to be used against the voters on the Election Day.

Did Ben Ephson base his opinion polls on the threats the NDC pose to the public to come up with that conclusion? Did he consider the public euphoria for a change in government from NDC to NPP?
I shall ask the public not to value the opinion poll as has been conducted by Ben Ephson and published by the Ghanaian newspapers.

As an opportunist and a colluder as he is, he thinks President Mahama and NDC will win based on his knowledge of the Chair of the Electoral Commission doing whatever she could to rig the election but which attempt we shall vehemently resist.

Write off Ben Ephson as a con pollster. Ghanaians are no longer stupid to vote for, or allow, President Mahama and the NDC, to continue to steal Ghana's money through their unprecedented infatuation of corruption and mismanagement of the country.

Nobody should allow themselves to be swayed by the opinion poll as published by Ben Ephson, that paid agent of the NDC.

On the ground, majority of Ghanaians are voting for a change.