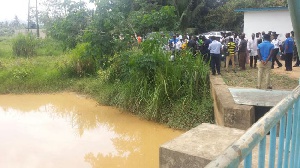 As a young boy growing up with my lovely grandmum in my village by then, Osino. River Birim was cherised and revered by the town folks.
Though I was at a tender age by then, I saw how lively and economically the river was. It was a source of drinking water to the community.

Early in the morning,it was exciting at the river banks as we see clearly the fishes and water snails enjoying the beauty of nature in their natural habitat.

It was so clear that one could see the nice stones in the water. The river was a source of refreshment for us on our way back from the farm in the hot afternoon.

I saw pictures of my mum in her young ages swiming in the river during festive occassions as they referred to as 'beach'. Yes it was their beach and untill recently it is thier nightmare.

River Birim was really revered especially on tuesdays as it is claimed that the god of that river is a tuesday born and also a female. It was truly a mother because hardly will you hear that someone has been drowned in the river.

It spread it's motherly love around her natives.
The great river untill now was home to different species of fish and other water living animals. It provided water to the treatment plant in the town for domestic purposes but now only boreholes are spread accross the town.

River Birim is now DEAD due to the selfish,greedy and wicked acts of shallow minded individuals living like human beings.

On my way to my Osino on any day from Konongo, i cry whenever i get to Anyinam. I always ask myself, 'what wrong did this woman do to deserve this kind of treatment?'. I pray that a day will come when she will wake up from her sleep and take revenge on her destroyers.

A once clean and lively water now DIRTY and DEAD.

STOP GALAMSAY

#BRINGBACKRIVERBIRIM#