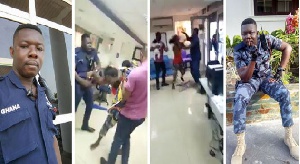 LAST week Friday (July 20, 2018) a video that went viral showing a police officer brutally assaulting a nursing mother in the banking hall of Midland Savings & Loans indeed shocked the entire nation!
IN the video, Officer Godzi Frederick Amanor, aka Skalla, is seen first, beating Madam Patience Osafo, a nursing mother, with an umbrella in what appears to be his attempt to drive her away from the banking hall.

AND as Madam Osafo showed no sign of leaving, this beast of a police officer vented his spleen on her, punching and slapping her mercilessly.

THE painful aspect of it all was that this officer Amanor did not give a dime about the fact that he was beating a hapless nursing mother. Absolutely barbaric, wicked and above all ridiculous!

WE believe many are still asking the question: what was the crime of the nursing mother to have warranted that kind of horrid treatment by that officer Amanor?

EVEN granted the woman had even committed a crime, was that the best way for this deranged officer to treat her, knowing very well that she was carrying a two-and-a-half-month-old baby?
TODAY , after watching that despicable video, is still sickened by the unprofessional and hellish conduct of that officer. If for nothing at all, we expected that policeman to have known that he was dealing with a nursing mother.

OBVIOUSLY , the barbaric conduct of that Amanor or whatever he calls himself has brought into disrepute the entire police service.

IT is along that line that we on this paper condemn in no uncertain terms the cruel action of Officer Amanor on Madam Osafo.

CERTAINLY , such an open abuse of the fundamental human right of a Ghanaian by a law enforcer must not be tolerated in our democratic dispensation.

WE are not in anyway by this editorial comment creating the impression that all police officers in this country are bad. Absolutely not!
IN fact, there are many disciplined, patriotic and hard-working law enforcers who continue to serve Ghana well. We urge them to continue to serve mother Ghana.

HOWEVER , Today is happy at the swift response by the Police Administration on the matter so far.

FURTHERMORE , it is refreshing that the Police Administration has publicly condemned the action of the said officer and even gone ahead to arrest him, while investigations continue.

THAT sends a clear message to our law enforcement officers that they are not above the laws of this country!

AGAIN , why did the workers at the Midland Savings & Loans Limited not restrain that police officer when he was initially brutally assaulting the poor nursing mother?
PERHAPS they were even happy at the maltreatment that was being meted out to the nursing mother.

THE company's staff at that branch must all bow their heads in shame for allowing that Amanor to cruelly beat the poor nursing mother.

IF that is how workers of Midland Savings and Loans Ltd., will sit aloof and allow their customers to be treated, then we advise customers doing business with them to be wary!

FOR us at Today we want to assure the Police Administration that we will not rest until justice is served this nursing mother!