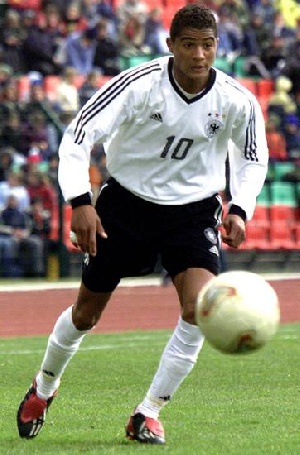 Tue, 15 Dec 2009 Source: Uli Hesse
Hamburg's Jérôme Boateng, born in Berlin to a German mother and a Ghanaian father, won his first Germany cap in October. He also became the first German international to be sent off on his debut, but that's another story for another history book.
Jérôme has a half-brother by the name of Kevin-Prince, who is currently playing for Portsmouth. In a bizarre twist that could be yet another story for yet another book, Kevin-Prince's mother Christine is not Jérôme's mother, but she's also German. And her maiden name is Rahn - because she's related to Helmut Rahn, who scored two goals for West Germany in the 1954 World Cup final.

Anyway, Kevin-Prince has represented Germany at every junior level and also played for the Under-20s and Under-21s. But this past June, hoping to appear at the World Cup in South Africa and doubting he'd do so with Germany, he announced his willingness to play for Ghana.

From what I hear, Kevin-Prince is doing well at Portsmouth and it's also been reported that Ghana coach Milovan Rajevac will talk to him as soon as FIFA have ratified the player's nationality switch. The delay seems to be about papers that document his Ghanaian descent, but that should be a formality. Kevin-Prince's dad Prince came to Germany in 1980 and played as a defender for Reinickendorfer Füchse in the third division. His uncle Robert Boateng was even a Ghana international in the late 1990s.

If Jérôme and Kevin-Prince should face each other in South Africa next summer it would be, for all I know, the first time in history that two brothers have represented competing teams at the World Cup.

As it goes without saying, it's not an everyday occurrence that members of the same family line up for different countries, though it can quite easily happen with fathers and sons. Take the case of Scottish international Jim Bett, who married a woman from Reykjavik. Jim's sons Baldur and Calum have both represented Iceland at Under-19 level.
But brothers, that's an entirely different story. One recent case that resulted in a few news items stars Steve and Parfait Mandanda. The former represents France, the latter DR Congo - and both are goalkeepers. In February of 2008, DR Congo met France's reserve side. Steve played for the French in the first half, Parfait tended goal for Congo in the second.

Talking of the 2010 World Cup, the Wegerles also come to mind. That's because brothers Roy and Steve Wegerle were both born in Pretoria, South Africa. But Roy played for the U.S. while his older brother represented his native country.

However, there was (and is) an 11-year age gap between the two Wegerles, so there was never any realistic chance they would meet at the World Cup. And the same currently goes for the Mandandas, simply because it doesn't seem probable the Red Devils from Congo will qualify for the finals in the forseeable future.

The Vieris, though, did have a real chance to make history. Christian Vieri was born in Bologna but raised in Sydney. He made 49 international appearances for Italy between 1997 and 2005, playing in two World Cups. Christian's younger brother Max was born down under, and even though he played his football in Italy, he remained an Australian.

In May 2004, Max was called up to the Australian national team. He said: "Two brothers playing for two different national teams, that's strange, huh? But I am very happy to be here. And Christian just wished me good luck. Now I hope we can play against each other one day. Australia versus Italy - that would be a beautiful thing."
It could have happened - even on the biggest stage of them all. But after his sixth game for Australia, in 2005, Max wasn't called up anymore. Christian, meanwhile, suffered a knee injury in March 2006 and thus also missed the World Cup. Where, you will recall, Australia met Italy in the last 16.

There had been another close call many decades earlier. Michele Andreolo was born in Montevideo but became an Italian international in 1936, while his brother Raymundo played for Uruguay. Raymundo was in the squad for the 1937 Copa América and made one appearance. But it seems he was not picked again after that. And in any case, Uruguay then refused to participate in the 1938 World Cup, which Michele won with Italy.

And so - barring injuries, red tape or selection surprises - June 23, 2010, is a day to look forward to. For normal fans and nerds alike.
Source: Uli Hesse