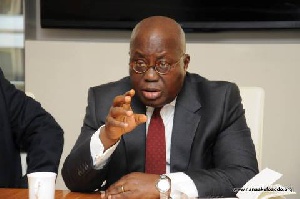 By Margaret Jackson
Ladies and gentlemen, the so-called survey conducted by one Dr. Isaac Owusu Mensah, a lecturer of the Political Science Department (PSD) of the University of Ghana, which claimed Akufo-Addo would easily win the December 7 polls has turned out to be the biggest lie of the century.

The PSD has since disassociated itself from that bogus poll, claiming Isaac Mensah dubiously did it in order to tilt the minds of the students of the University of Ghana and Ghanaians in general to vote for Akufo-Addo on December 7.

Professor Yaw Gyampo, a senior lecturer of the PSD of the University of Ghana in an angry mood stated that the department has no hand in that bogus survey conducted by Isaac Mensah, who is known nationally as a staunch appendage of Akufo-Addo. Isaac Mensah has travelled multiple times with ex-president Kufuor and Akufo-Addo and many students and faculty members of the University of Ghana know him to be a staunch member of the NPP.

Prof. Gyampo further stated that he thinks that Isaac Owusu Mensah carried out the survey with his friends and family with Owusu Mensah being the lead researcher. Prof. Gyampo who was not happy at all also stated emphatically that the PSD did not conduct the phoney survey and that Isaac Owusu Mensah (not Bempah) dubiously posted his so-called findings on the platform of the PSD.

Many Ghanaians were taken aback when stomach political scientist, Isaac Mensah out of the blue released that unscientific poll last week, with the aim of boosting the floundering campaign of Akufo-Addo whose campaign has been taken over by Mahamadu Bawumia and his disrespectful second wife Samira.

Since when did the PSD of the University of Ghana conduct presidential polls in Ghana? But Isaac Owusu Mensah, who is looking to catch the attention of Akufo-Addo, the Chief-Believer in Polls and Prophesies, for a possible appointment if God forbids he wins, hurriedly put up that survey to make Akufo-Addo, whose lying and half-truths campaign which seems to be going nowhere, to look good heading to the last days of the campaign.
In this world if your mum is dead and you want to deceive your neighbours by claiming that your mother is sleeping, you have every right to do so. But remember that it would not take too long for the stench to send your neighbours and possibly the police back to your house for more questions.

If you talk to very truthful NPP supporters, they will tell you in the face that they have a bad candidate called Nana Akufo-Addo. They don't mince words about it! In fact, some supporters are clinging on to the hope that the NPP would rather win more parliamentary seats and forget about the floundering presidential race. Akufo-Addo, they claim is a goner! He is the worse presidential contender because he does not know how to run and win elections.

When you try to compare US President-Elect, Donald Trump to Akufo-Addo, his own supporters will tell you privately that Akufo-Addo is no Trump. They tell you to examine the energy that made Trump do five or six campaign stops in several states of the US in a single day during the last stretch of the US elections and ask if Akufo-Addo can even do six campaign stops in a day in a single constituency.

All Akufo-Addo knows is being a control freak. And that is what will send him to his political oblivion.

Please stay with the above information until you hear from me again!

magjackson80@yahoo.com http://majjacks80.blogspot.com