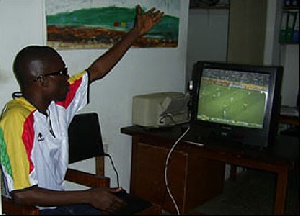 I have just returned from South Africa, where I was a very happy man in the midst of tens of thousands of people who gathered at Constitution Hill, Braamfontein in Johannesburg to usher in the New Year at the maiden Afropunkfest to be held in Africa.
Trust me when I say it was lit! I wanted to talk a bit about the festival and then talk some more about other things that happened last year and what are the things likely to happen in 2018 as far radio, television, travel, creative arts and related matters are concerned.

However, considering that one of the hottest topics in the country today has to do with the issue of TV license and the consequences of not paying (Supreme Court has created a specialised court to deal with offenders), I think it is appropriate that I repeat portions of a piece I wrote about the subject in July 2015. Social media is virtually melting with this subject and it is right we discuss it, again, no?

As this happens to be the most authoritative column on matters related to radio and television it will be in order to take a bite at this inviting cherry before the craze dies down.

Resourcing the public broadcaster

GBC has been with us for wellnigh eighty years under and it has been tasked as the public broadcaster to carry on its business in a manner that would ensure that the public is adequately informed, educated and entertained.

In doing this therefore, the GBC needs to be resourced to be able to do it well. One of the means through which this resourcing would be done is by the collection of television license. At least that is one of the means we have adopted as a nation since the 1960s.

This apart from government subvention and commercial activities such as advertising and sponsorships income from television license fee collection has been how the Ghana Broadcasting Corporation has funded its business.

The GBC has always played in the commercial space even before the entry of private or independent broadcasting companies. Indeed about 60% of the income of GBC comes from commercial activities with 49% from government and the remaining 1% from TV license fee.
The argument is how the mix should be going forward. The GBC is expecting to raise a lot more from television license hence the new fee of GHC36 which compared to the existing GHC0.30 amounts to some 10,566% increase if you look at it from that point of view. Thus its implementation will ensure that a lot more money is collected than the previous regimes.

Dividing the money with GIBA, et al

Curiously, the new regime of television license fee, based on an amendment made by parliament, has directed that the revenue from collection be divided among GBC and other organisations. GBC takes the big part of 72%, GIBA (yes GIBA, but we'll come to that soon) grabs 15%, NMC takes 4%,another 4% goes to Media Development Fund, Films Fund gets 2% and the remaining 3% would be used as management fee.

It is curious to me because I do not see the rationale for other organisations earning from this fund. What media development are we talking about? The kind that buys and distributes laptops for journalists?

What has film fund got to do with television license? We have not even finished with the film bill and we are building a fund from TV license fee for it.

Shouldn't the NMC be resourced by the state someway somehow? Why are they hankering for TV license fee money? As objectionable as these state institutions and funds benefiting from the TV license fee money comes across to me, none comes anywhere close to the GIBA.

This is a private organisation that works for profit and they have been allocated as whooping a figure as 15% from the TV license fee revenue.

Lest anyone think I am arguing on the basis of the percentage, far from it.
I am saying that giving even a pesewa to the GIBA is as repugnant as can be. They work for profit, they are an organisation that has come together to seek their lot and to benefit from that, how we should give our TV license money to them instead of giving it to the GBC is lost on me.

I have heard arguments made by the GIBA especially by its president Akwasi Agyemang that the members of GIBA provide public service hence there should be no hue and cry if they are getting something back.

I respectfully disagree because GIBA gets paid for the service they render.

Opposition to TV license Comments, posts, tweets and other means of expressing views on social media as well as radio and television contributions on this topic from Ghanaians indicate that paying television license is not something people love at all.

Basically, people say they think GBC has not justified why they ought to pay television license in terms of the quality of content they produce.

Other people have argued that they hardly watch GTV or any of the GBC operated television channels, why should they pay to resource a station they do not watch?

Then there are those who claim that they do not even watch local television because they have DStv or such other pay television platforms and hardly ever switchto th e local channels. For these people owning a TV set is because they can watch foreign content on paid platforms.

These are some of the arguments and for these people therefore there is absolutely no way they will pay the television license. However, I have tried to explain how this stance will not hold considering as it is the law and refusing to pay is tantamount to breaking it.
We have not been asked to pay this fee because we watch GTV or Obonu TV or any of the GBC run stations. We are paying because the government says once we own a TV set we should pay. Therefore it doesn't matter if you watch GTV or not,indeed it doesn't matter if you watch TV or not.

So long as you own a TV set, whether black and white, Mikachi, Samsung or Sumsang you are to pay GHc36 for the year.

Those who say they won't pay, sorry to disappoint you but you have no such choice. It is like saying you won't pay income tax because you don't know what the money is used for. It is not optional, it is not conditional ("GTV should bring back this or that or should show this or that programme before I pay") it is compulsory.

As it stands now you had better be prepared to pay GHc36 for one set or GHc60 for multiple TV sets or pay 250 penalty units or do jail time or both.

Stop GBC from commercial activities If we are going to pay this much for TV license then GBC should be stopped from engaging in commercial activities.

They should not be allowed to compete with the private broadcasters for commercial money and while at it,GBC should cut its expenses and subsist on the revenue from TV license.

The above argument goes to argue for the GBC to be the sole beneficiary of the TV license fee revenue. No other body should be allowed to partake in it as has been proposed. Parliament ought to look at it again and call back the formula worked for the division.

Above all these, there is the need to have an independent body, like a Trust, that should be made to oversee the collection and disbursement of TV license fee by GBC to ensure they meet value for money benchmarks. The board of GBC should report to this body on how they plan to use the funds and get approval to use it and then report at the end of the year.
Last word

The only way we can avoid paying TV license is for parliament to repeal the law. Our purposeless lamentations on social media won't stop it if parliament does not scrap the law. So long as that law remains we are obliged to pay.

Don't follow those hashtags like

#WeWontPayTVLicence,

#NoTVLicence

#YentuaTVLicence, etc.

Talk now and let parliament do something about it or forever hold your peace.