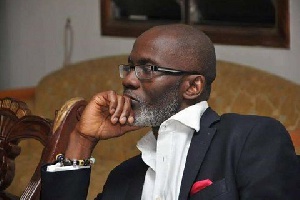 When people who are expected to know better start being petty, it causes division and chaos. When leaders act irresponsibly, followers suffer.
It is very unfortunate that legal practitioner, Asare Otchere-Darko stooped so low to disrespect a 27-year-old musician who was only doing his job. Imagine if Wizkid replies him. I'll keep it simple: if Mr. Otchere-Darko doesn't know who Wizkid is, let him ask his wife and children.

The Confederation of African Football (CAF) is for the whole of Africa, and hosting a CAF program in Ghana doesn't mean Ghanaians must dominate.

We must discard that 'host and win' mindset that makes us think Ghana must dominate every event it hosts on its soil. It doesn't work for many international events.

Host and Win is a fallacy that makes Ghana a nation of wishful thinkers and a topic of mockery for the outside world.

We must stop inciting hatred and causing tension. Imagine if Wizkid replies (or disses) Mr. Otchere Darko. Just imagine.
CAF focuses on numbers and representation, that is why Didier Drogba can be presenter in Accra when there are thousands of people in Ghana (including Kweku Sekyi) who can do better presentation than Drogba, but hey, it's a CAF show!

FIFA is mother of CAF and there's no conformity to any "host and dominate" programme, thus a major FIFA event can be held in a country anywhere in the world and no artist from that country will perform that night.

Last night on Facebook, I watched a video of Shatta Wale who bragging that he took 30,000 dollars from a certain CAF rep but refused to perform at the program because he felt disrespected that the fellow who tried to book him did not use "proper CAF procedure." That is some news.

Aside the 6 Nigerian musicians who performed a song each, there were 2 Ghanaians — Kidi and Efya — that means 3 for Ghana if Shatta had performed. There were other performers from Togo and Congo.

It is however very embarrassing that a man whose influence is perceived to extent to as far the presidency of Ghana is Twitter-ranting about "local content," complaining about Naija music, and attacking an innocent singer for no reason.
I watched the full TV show of the Best Fifa Football Awards held in Zurich, Austria, on January 9, 2017 and never saw Austrian performers. The show was presented by (American) actress Eva Longoria and (German) Marco Schreyl. Music performances by American group, Naturally 7 and English singer, Julian Perretta. No Austria. Zero Austria! You think there are no better Austrian presenters or musicians?

Nigeria has a population of 180 million, Ghana has 28 million. Do the maths. Think. Think like a businesswoman.

Television gives sports its biggest money. TV rights and exclusivity provides the cash for the Olympics and all FIFA events. The show held on Thursday, January 4, 2018 at the at the State House, Banquet Hall, Accra, wasn't even live on Ghana Television. However, it was live on Supersport (DStv) which has its biggest subscription region being Nigeria.

In fact, there are more people paying to watch DStv in Nigeria than those in Ghana and all the other West African countries combined. That's how huge and powerful the Naija market is.

Please, stop fighting Nigeria — you're wasting your time.