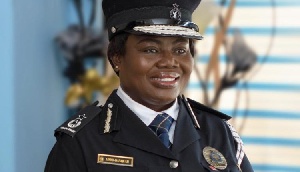 In my last article, my attempt at mischief made me refer to the Ghana Police Service as Maame Serwa's Police Service. It was a joke that was potent with some thoughts. The Ghana Police Service despite its reputation as the best in West Africa has been fraught with too many moral challenges. It gets into the headlines often as one of the most corrupt institutions. And something tells me the CID boss is just a mirrored picture of who we are as a people.
Not too long ago, we had DSP Azugu who told a bald-faced lie before Justice Emile Short's Commission on live television. Now, it is COP Maame Tiwa. In fact, this woman came into the limelight not too long ago, at least for those of us who are not familiar with the police hierarchy. She got into the news in 2017 when a recorded conversation between her and A Plus was leaked. Now she has become an infamous household name, thanks to her botched attempt to use motivational series to address a sensitive issue of kidnaps.

The joke of lying under the pretext of inspiring hope is not as disheartening as her attempt to brush off the whole issue with a stern denial of same. To add insult to injury, she would not end media interviews without affirming her ambitions of becoming the next inspector general of the police service (IGP). But for her confidence in maneuvering the system without paying any price, what could have encouraged her to say she was misconstrued? The manner in which the CID boss runs around to grant interviews in the media suggests that she remains unrepentant after the gaffe. She has the effrontery to openly express desire in the IGP position because, after all, everyone in high office in Ghana is expected to lie.

In this country, every leaked tape has been denied. Whether it was the voice of a pastor or the most 'honourable' man, it must be denied. And when we are lucky, the accused will say the tape has been doctored; that is to mean something has been added.

The moral decadence in our country is alarming but nobody cares about it. 'Ghana in the eyes of God', the 2015 Tiger Eye's anti-corruption film is still fresh on my mind. Our judges who are supposed to deliver justice were caught delivering just-lies after taking cash, goats, and schnapps.

I do not know what happened to calls to install lie detectors in our courts? But when installed, it is my hope that the equipment would not only detect lies of parties involved in a case but also detect whether the judges are truthful or not.
Our politicians, who appoint these officers are themselves adorned with apparels of hypocrisy, shamelessness, and lies. Today, the profession of politics is synonymous with lies. No one believes a politician these days. When good economic promises are made, the people have to trust God and pray that the spirit of God would touch these men and women of special hearts to receive a new heart so they do not change their minds. Indeed, it is difficult to meet a frontline politician in Ghana who finds lies unacceptable. Someone says ''when a politician greets good morning, you need to check the position of the sun before you respond''.

Any wonder, Maame Tiwa is still in office even though pressure is still building upon her to resign? Resignations are not common in our part of the world because hypocrisy and the culture of lies are normal and the powers that be are themselves culprits and products of this culture. A petition to get her removed from office is being endorsed and already, some have pooh-poohed it as a wasted effort given past precedences.

What is fascinating about this phenomenon is the fact or fiction that we are predominantly a religious nation. Both Christianity and Islam which are the major religions in Ghana frown on lies. Jesus Christ referred to the Devil as the father of lies. However, not even the devil would dare compete with us in the art of lies. Daily, we have a religious head start yet we end with attitudes that are at variance with religious tenets.

I am beginning to think that individuals don't even believe in themselves anymore. The entrenched attitude makes the few who try to be honest emphasize honesty in every sentence. Some people I know would start every sentence with 'sincerely speaking', 'to be frank', 'honestly'; even though they are not under any severe criminal interrogation. I do not know what can change this attitude, but certainly, we are simply no longer at ease with ourselves.