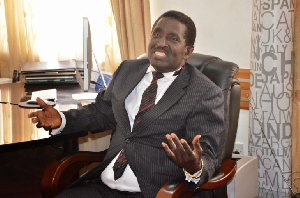 Reader, let me play a little game with you. What do you think is the meaning of the title to this article? I can bet my last cedi on the chance that whatever you are thinking is wrong. Very wrong. Read on.
When I was campaigning for NPP General Secretary, there was one man Mr. Agyekum who told me: "Captain, you will be a very good General Secretary for NPP." He gave me material support for the campaign – but the rest is history.

Two weeks ago, I returned from court to see an invitation card on my desk: when I looked at it, I noticed that it was a funeral invitation.

Secretary!! Who brought this invitation card?

"A gentleman came here when you had gone to Court. He said he was Mr Agyekum, former Chairman of Korley Klottey NPP".

One good turn deserves another. Since this man saw me and supported me, I have never set eyes on him. If his mother is dead, the least I can do is to attend the funeral, wherever in Ghana that it is taking place.

And so it was that on Saturday 28th October 2017 at exactly 0600 hours, I left my Kasoa abode, took the George Bush motorway to Achimota, bypassed Nsawam, Suhum and by 0800 hours I was at Linda Dor. Objective – Begoro – Fanteakwa district capital.

After Linda Dor we turned to Bunso, moved on and turned at Osiem, and by 0900 hours we were in BEGORO. At Linda Dor we met two other set of mourners who were attending the same funeral, so we followed them right to the funeral home.

Chairman's mother, Ohenenana Georgina Ama Nyakoaa, 91, was laid in state in the living room of Chairman's house, and the funeral took place right in the forecourt of the house.
The casket was brought into the open and the church of Pentecost organized the burial service. The Pastor preached on the second letter of Paul to Timothy, saying "I have fought the good fight, and I have finished the race…"

You know, reader, I always say that the best sermons are always preached at funeral services. I remember one such sermon at a school park in Suhum where the pastor asked: "who is your true brother? "In answer, the pastor said "Your true brother is the PLACENTA from your mother's womb, which, after birth is flashed into the toilet. YOU ARE ALONE in this world, so, DON'T TRUST ANYBODY!!!

Sitting under the canopy in Chairman's house, listening to another funeral sermon, reader, I was stunned. The Pastor said as he was reflecting on the text of the sermon, the idea that came to him was "WHAT IF……….?"

As for chairman's mother, he preached on, there she lies. She has fought the good fight, she has finished the race, but WHAT IF IT WERE YOU lying there? What will people say of you? You fought the fight? You finished the race?

The Pastor said whatever tribute that will be paid to you is NOTHING. What matters most was that, you can be summoned at ANYTIME – 20, 50, 60, 80……..even 200 years – you will go. The million dollar question is: have you STARTED THE RACE? Have you given your life to Christ?

Reader, I noticed that everybody was quiet, listening attentively as this smallish looking diminutive pastor in a very clear powerful voice drove these cold words into our hearts.

The sermon over, prayers, offertory and then some seven young men dressed in all white, undertakers, came to pick up the cadaver, and reader, the acrobatic display, dancing with the all white silver casket on their shoulders……………wow!!!

We decided that instead of following the corpse to the cemetery, we would go and sit somewhere and sort ourselves out. So we sat in the car and drove to town. But where?
"Please, young man – good morning. Can you show us the best hotel in Begoro so that we go for a drink?"

"Call me Madam".

"Call you what? We want the most executive hotel in Begoro to go and drink….."

"Yes. Go to "Call me Madam" – turn left at the next junction – close to the Roman Catholic School….."

"Is the Hotel called "Call me Madam?"

"Yes sir!!"

The driver made a U turn, we drove up a little, and asked some slim cute lady….."Madam, where is call me madam?" Amidst broad smiles, she pointed the building to us.

"Call me Madam, is an ultra modern executive hotel but under furious construction – four storey structure, about seventy meters long, with over ten workers, mortar mixing, concrete laying……very extremely serious.
I sent a scout to the reception who returned to say "Captain – correct!!"

We got down and entered – of course it is not like Kempiski or La Palm, but for a provincial district capital, very neat, spacious and airy. So we sat down and we were busily minding our own affairs when about six people, holding chairman's mother's funeral brochures entered – to relax.

Ten minutes later, one of them came to me: Captain, I am Osei Akoto – M Plaza Hotel…please we are chewing groundnuts – here, let us share it – and – our food is around!!

I felt goose pimples – I have come innocently to spend at the best hotel in Begoro, and here is someone, ready to literally spoon-feed me and my team!!!

As we drove back through town to the funeral grounds, I felt very sad for Begoro. It is NOT a village – it is a big large community. I will put the population at minimum 20,000 people, but everywhere, there is sign of either neglect, mismanagement or decay, erosion eating up both roads and buildings, bushes right in the center of town, potholes everywhere………

I told those in my car…………supposing Begoro were in Europe or America, where every four years they elect their Mayor by popular ballot, to fix their problems – but no, somebody in Accra always appoints a DCE for them, like Ofosu Ampofo, who will sit there for four years, and nothing happens, just deepening decay, daily…………..

We got to the funeral grounds, shook hands and sat down.

There were as many as 7 funerals that day in Begoro. Chairman's mother had 11 children, (two predeceased her), and hosts of children and great grandchildren. So, you can imagine – plenty of mourners, from far and near, the MC announcing…..from Setwi, from Brong Ahafo, from America.
Famous lawyer, Daniel Afari Yeboah was around, and, as you can guess, NPP was there in overwhelming strength – Korley Klottey Constituency with their chairman, Krowor Constituency with their chairman, Begoro constituency with their chairman, the local DCE with his entourage, Chairman Agyekum was all over the place.

One thing, though, impressed me beyond understanding. Without state support, the people on their own, have built a solid durbar ground for the chief, next to the Palace, and under construction is a regal mansion, the new Palace for the chief.

If, traditionally, the people, on their own, can do so much, what can't the very same people, with state support, empowered with the right to elect their own Mayor, do?

At about 4:30pm as more chiefs kept arriving at the funeral grounds, we sat in our car and bid goodbye to Begoro – Call me Madam, the imposing Palace, their potholes, narrow roads, tall buildings…………so much to be done……..