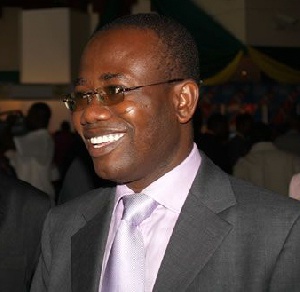 Sun, 30 Nov 2014 Source: Jerome Otchere/Asante Kotoko Express
I have been wondering if as a football nation, we know what we want. All cannot be said to be well with our football but will the resignation or forceful removal of the FA President change the fortunes of Ghana football? Why not use appropriate means to change the FA President, if we so desperately want that? The media has power and influence. Why should the media not use its power and influence to propagate the message that, if Kwesi Nyantakyi has to go, he must go through legally sanctioned means?
I am aware of how social media platforms have been formed to transmit downright falsehood about the FA President in a bid to see him out. There are also other social media networking groups relentlessly defending Kwesi Nyantakyi's administration to ensure his re-election. In a budding democratic setting like ours, I see nothing wrong with these groups but when the objectives of these groups lean more – towards the dissemination of lies – targeted at denigrating the reputation of respectable people in society, there must be cause for concern.

As someone who follows our football closely, I will still be a novice to say that, Ghana football in its present state is faring well. In fact, I am worried about the future of Ghana football. When a whole national football league has not started due to a prolonged litigation, why won't I be worried? When the attention of the FA appears to be solely focused on the senior national team, the Black Stars, to the detriment of other national teams, why won't I be worried?

When a ban by the continent's football controlling body, the Confederation of African Football (CAF) looms because of an age-cheating allegation, why won't I feel worried? When more money continues to be spent on the Black Stars (yet to win anything in 32 years), when a fraction of that money could go into development of talents at the grassroots, why won't I worry that the future of Ghana football is danger?

When all these challenges facing Ghana football come together shouldn't I have good basis to criticize the GFA? Shouldn't I demand that, the GFA sits up to save our game from collapse? The enumerated challenges should however not lead me to support the forceful removal of the GFA President. As someone in the media, I am for the rule of law. I want to positively influence people. That is why I am disappointed that, some of us who must educate the public are sadly and steadily losing our robust, inherent ability to shine the light where there is total darkness.
Yes, Ghana football has many problems but President Kwesi Nyantakyi must not be forced out. He must stay. If he chooses to heed calls on him to resign that is a different issue. If there are people who have ideas better than what Kwesi Nyantakyi has displayed and those people believe that, they can do more than he has done to change the face of Ghana football, those people should confidently step out to contest him openly. They must start their work. They must ultimately get the FA's Congress to vote him out. If that is too difficult an assignment for them to undertake, those people have no serious business for Ghana football.

Ghana football is presently too disturbed to be thrown into further chaos arising out of the forceful removal of its President. The weaknesses of Nyantakyi's administration notwithstanding, we must not accept anything that seeks to force him out. We must resist that because there is no guarantee that things will change when he is forced out.

Let those who want Nyantakyi out put forward a candidate when the time is due. Let that candidate tell the football populace what he has for Ghana football. Let us learn to do what is right and what will best serve national interest. Kwesi Nyantakyi was elected through a democratic process and democracy doesn't evolve by heart. It takes time. It takes patience. It takes discipline. It takes the resolve to abide by the rule of law regardless of the discomfort.

The man hasn't stayed in office beyond what is legally required although there must have been flaws in his management of affairs. If we want his administration out, let us just do what will best serve the interest of Ghana football. That's voting him out through the process that brought him into office. The frantic calls to force him out in my candid opinion are needless.
Source: Jerome Otchere/Asante Kotoko Express