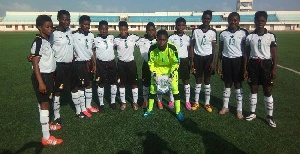 Ghana are perennial participants at the FIFA U-17 Women's World Cup, having played in every edition of the tournament, beginning with New Zealand 2008.
Ghana will be participating in this year's competition drawing inspiration from best performance came at Azerbaijan 2012, when they managed to take home a bronze medal, after defeating Germany in the match for third place.

The Black Maidens followed that historic performance, with two quarter-final appearances in 2014 and 2016.

The road to Uruguay

Ghana started their qualifying campaign with a 5-1 win over the Gambia in the first round in Bakau, thanks to a four-goal performance from captain Mukarama Abdulai.

They followed that up with a 2-0 victory over the Gambia in Cape Coast.

In the second round, they came up against Djibouti, which proved to be a lopsided contest, as the Black Maidens cruised to a 19-0 aggregate win to secure their place in Uruguay.
Third thime lucky for Evans Adotey?

Ghana have the experienced Evans Adotey at the helm. Adotey was in charge of the last two U-17 Women's World Cup campaigns, in which the Black Maidens exited after the quarter-finals on both occasions.

The coach has experience at both the women's youth level and with men's club side Medeama in Ghana, having worked as a technical director and a head coach in the past.

Murkarama the star forward

Defenders at Uruguay 2018 will need to watch out for Abdulai.

The forward scored four goals in both matches against Djibouti, and four earlier in qualification, to see her become the continent's top scorer by quite a distance (12 goals).
Fuseina Mumuni and 23 the returnees

Among the 336 players selected for the tournament, 24 of them were involved in the last edition of the U-17 Women's World Cup at Jordan 2016. More recently, 15 of the players selected for this upcoming competition appeared this past August at the FIFA U-20 Women's World Cup France 2018.

Ghana midfielder Fuseina Mumuni, meanwhile, will be making her third consecutive appearance at a U-17 Women's World Cup.

She was just 12 years old when she featured at Costa Rica 2014.

Beginning on 13 November, this year's U-17 Women's World Cup will take place in the Uruguayan cities of Colonia de Sacramento, Maldonado and Montevideo, with the final set for December 1.