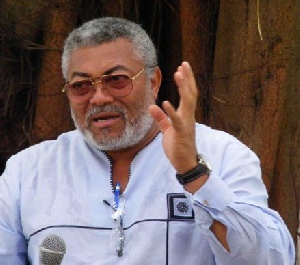 Delivering a keynote address at the 2018 Ghana UK Based Achievement (GUBA) Awards in London on Saturday, July 14, 2018, the former Ghanaian leader, John Jerry Rawlings took the opportunity to urge Ghanaians living abroad to help curb corruption in the country, as well as transmitting the quality of discipline and prudent management of resources they acquire in the countries they reside in back to Ghana.
Rawlings plea is necessary for a time that the impact of corruption has affected Ghana's infrastructure, including the environmental, educational and health sectors. Whether we live in or outside Ghana, it's our responsibility to build a successful and healthy Ghana.

However, there are problems and challenges Ghanaians in the Diaspora are facing which need immediate attention if the Ghanaian government wants those residing abroad to invest or to play any significant role in building a sustainable economy.

Despite the role of Ghanaians in the Diaspora, transmitting thousands of foreign exchange to Ghana, yearly, they continue to face challenges when trying to set business in the country.

Massive corruption has severely affected Ghana's infrastructure. Since the Ghanaian government has failed the fight against corruption, high taxation has been introduced by previous leaders, hoping that will help the government.

Unfortunately, the high taxation or duty on imports has discouraged foreign investment in Ghana. Every commodity from overseas brought into the country attracts heavy duties. Imagine the duty paid on vehicles taken from Ghana ports attract over 200% duty, twice more than the purchasing price,
Therefore, how does Rawlings or the Ghanaian government expect Ghanaians overseas to come home let alone to help fight corruption?

Another problem, I would like the former Ghanaian leader to know is, most African journalists living abroad aren't interested to fight against corruption in Ghana, because when African presidents come to Europe they aren't interested to speak to African journalists.

African leaders when in Europe always try to avoid African journalists for an interview, since they are not prepared to answer any question on corruption.

In Germany, an African leader refused to be interviewed by an African journalist. Smart as the journalist was, he gave the questions to a European journalist and the interview was successful. In the end, the African leader answered the same questions he avoided the African journalist.

Another fact which can't be ignored is many Ghanaians aren't interested to settle in Ghana due to poor security. Too much-armed robbery in Ghana. Many Ghanaians that visit home often become victims to armed robbers. The unlucky ones lose their lives.
On may 10, 2018, I published an article captioned "Who Is The Minister For Lands And Natural Resources In Ghana?" Ghana is a lawless country, therefore, traditional chiefs have taken it as an opportunity to defraud Ghanaians living in the Diaspora purchasing lands in Ghana with impunity.

ModernGhana news reference: https://bit.ly/2LqcNZ7. With such a bad experience which has happened to hundreds of Ghanaians that have purchased lands in the country, Mr. Rawlings, who is interested to come home or stay abroad to fight against corruption?

I paid over two thousand dollars for a land and invested 10,000 Euros in the project. I lost the project and my money because the chief has sold the same land to about three people. Nothing of that sort can happen in Europe or America but in Africa, it's possible, because it's a 'shithole nation.' Thank you, Donald Trump.

I will, therefore, take the opportunity to tell Rawlings that before he will make a second attempt to ask Ghanaians in the Diaspora to fight against corruption, as a former leader, he and the Ghanaian government must find solutions to all the aforementioned problems, especially, if Ghana needs foreign exchange and development.