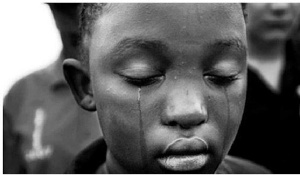 Every country has a responsibility to provide a safe environment for children so that they can receive the love, care and support that they deserve. And Ghana is no exception. Although the Government of Ghana can vaunt of having done a lot for the Ghanaian child over the years, there
is still much more to be done to ensure that children get the very best in the country.

Child abuse is a serious and devastating problem not just in Ghana, but African and the world over. Child abuse as defined by World Health Organization (WHO) is "all forms of physical and emotional ill-treatment, sexual abuse, neglect and exploitation that results in actual or potential

harm to the child's health, development or dignity". In Ghana, it takes the form of child labour - fishing on Lake Volta by children is commonplace- amidst grinding poverty, child sexual abuse -

forcing or enticing a young person to take part in sexual activities- which is quite prevalent in our communities, corporal punishment -an all too common phenomenon in Ghanaian households intended to deter unwanted behaviour, child marriage with its significant hazards, harmful traditional practices like Trokosi and Female Genital Mutilation (FGM), child neglect and child trafficking. These malicious acts are threats to the child's basic human rights and a major threat to achieving the Sustainable Development Goals.

And for too long, we have been so frightened of causing offense that we haven't looked hard enough of what is going on in our communities. This is what I call "passive tolerance" and it leads

to child labourers being over 90% of children in the age group of 8-11 years who suffer injuries and health-related issues, it leads to about nine in every ten children who suffer some form of abuse
being involved in child labour and leads to around 25% of female children being married or in union before age 18 as contained in the 2014 Ghana Living Standards Survey's Child Labour Report. This "passive tolerance" leads to not only Ghana's statistics with regard to rape and defilement being so high that they rank in certain instances alongside countries that have a recent history of violent conflict like Sierra Leone or the Democratic Republic of Congo coupled with Ghanaian children being particularly trafficked to Cote d'Ivoire, Togo, Nigeria and the Gambia

for domestic service and exploitative labour according to Data gathered by the United Nations.

Children's Fund (UNICEF), but also to transactional sex (having sex for money or other needed items such as shelter, food and clothes) and children watching pornographic images being the most

prevalent forms of sexual abuse within the Volta, Upper West, Upper East, Ashanti, Western and Brong Ahafo regions as published in 2014 by the National Child Protection study carried out by the Government of Ghana and UNICEF. This "passive tolerance" leads to a 2016 report revealing

that, a total of 5,752 children were defiled in Ghana in the years 2010 -2014 and 342 of those cases perpetrated by family members of the victims. These statistics makes for challenging reading. This "passive tolerance" is holding our country back and this is inexcusable. So, what should we do?

We need to recognise that child abuse affects every community, rich and poor, and we need to work to concoct practical solutions. We need to agree that these solutions will never be possible without an all-out assault on child abuse.
Now, one incident of child abuse always gives some important pointers about the direction in which we need to go.

First,this may sound odd-, we should stop pretending Government and state agencies have all the answers. Even though the Government of Ghana has done a lot for the Ghanaian child having passed essential child protection laws like the 2003 Juvenile Justice Act, the 2005 Human Trafficking Act, the 2006 Disability Act and ratified the United Nations Convention on the Rights

of the Child; having adopted policies like the Child and Family Welfare Policy of 2015, the School Feeding Program , Free Basic and Free Secondary Education Policies ; and having instituted numerous State Agencies to tackle child abuse, yet there's still high prevalence of child abuse in our communities.

So what we, members of our communities, can do to augment Government's efforts is build community's capacity to protect children through advocacy on good parenting and awareness-raising on benefits of child protection.

Also, we should encourage open discussion on violence against children in communities. Additionally, persons in schools or institutions like faith

houses that children safely confide in should take action when necessary.
Second, we need to make regular data collection and information sharing amongst agencies working in child protection obligatory. Sadly, in Ghana, there is still a dearth of reliable data and information on child protection issues. Specific data on child violence, abuse and exploitation is not immediately available due to numerous reasons. For instance, most health institutions have well established structures for collecting routine data, but oddly, child protection data is not captured.

This problem is heightened on the continental stage as there is very little published research on child abuse in Africa as compared to other regions of the world. Nonetheless, continuous data collection and information sharing offers opportunities for early identification of child abuse, as well as research into preventative strategies which could deliver guidelines (a child Protection service) to manage child abuse in most emergency settings. For preventing and tackling Child abuse whenever it occurs is both beneficial to the child and to the country at large.

Finally, we should tackle head on unlawful, harmful cultural practices like Trokosi or indentured female slavery and Female Genital Mutilation (FGM) practiced heavily in some parts of Ghana.

For these practices are against the spirit of our age. People who organize forced marriage or Trokosi, we should prosecute them. Parents who take their children for Female Genital Mutilation

(FGM), we should arrest them. These children should be having their minds opened and their horizons broadened; not having their hearts filled with hate, their lives filled with these dreadful circumstances and their futures inhibited. And as we prosecute and arrest people, we shouldn't just

be saying what is wrong with these harmful cultural practices but we should be saying what is right with our country; the Freedom, Justice, Democracy that we have. These are precious things that people fought for and many people died for. And we have to let our children, all our children,
know that they are part of something big, a great country! That is why we should make sure we fight child abuse in all its forms so that these children can grow up proud of our country.

More National pride!