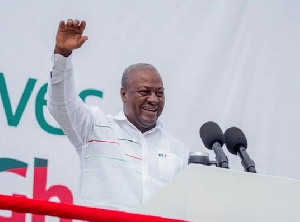 To be quite honest, we cannot fault the reflective critics for refusing to remit their fury in condemnation over Ex-President Mahama's desperate attempt to reclaim the presidency barely 22 months after being voted out of office by discerning Ghanaians due to his terrible errors in judgement which culminated in massive economic meltdown.
Obviously, former President Mahama had had enough opportunity to show discerning Ghanaians his ability to steer the nation to the right direction, and yet he woefully failed to deliver the goods.

The crucial question discerning Ghanaians should be asking then is: what else does he want at the presidency?

Somehow, Ex-President Mahama is moving up and down the country and unfairly castigating President Akufo-Addo who is prudently fixing the unprecedented mess left behind by the same former President Mahama.

Perhaps more than anything else, Ex-President Mahama is still holding on to the phantom belief that Ghanaians suffer from memory loss, and therefore cannot recollect the revoltingly ugly events which took place under his watch.

If that was not the case, what would then drive a president who brought the country to its knees through catastrophic errors in decision-making to persistently accuse his successor who is doing everything possible to undo the massive mess?

Wasn't the same former President Mahama who once claimed that Ghanaians have short memory? Yes, he referred to Ghanaian people as a bunch of amnesia sufferers who cannot recollect anything that would happen in their lives (emphasis mine).
But contrary to former President Mahama's claims, discerning Ghanaians have miraculously overcome their hitherto beguiling, albeit harmful memory loss if the 2016 election is anything to go by.

Indeed, discerning Ghanaians still remember the harsh economic conditions amidst corruption allegations (Bus branding, Brazil World Cup, SADA, SUBA, GYEEDA, SSNIT, NCA, Ford Expedition Vehicle, amongst others) which led to former President Mahama's 2016 humiliating election defeat.

Given the circumstances, some of us would like to go with the unrepentant critics who have been suggesting somewhat poignantly that Mahama is probably seeking to come back to settle a score.

In the grand scheme of things, it would be extremely disastrous if Mahama was to reclaim the presidency, given the dreadful errors in judgement which led to the massive economic collapse.

Why wouldn't discerning Ghanaians dread and express grave concern over the return of a former president who has more bribery and corruption scandals hanging on his neck than any other president in the history of Ghanaian politics?

Given the illimitable rot in the Mahama administration, some of us cannot help but to laugh off the NDC's faithful renewed zeal to return to power so soon.
The credit must however be given to discerning Ghanaians for rightly voting out the apathetic and licentious Mahama government during the 7th December 2016 election and instead reposing absolute trust in the NPP government.

I have always maintained that if discerning Ghanaians had not voted the phlegmatic NDC government out of office, Ghana would have been wiped out of the world map without a trace.

Let us therefore be honest, the NPP government's recent leverage of bauxite is indeed a well-thought through agreement, in the sense that the outgone Mahama government revoltingly presented around 58% of Ghana's bauxite to Ibrahim Mahama, the sibling of former President Mahama on a silver platter.

If you may recall, somewhere in 2017, the Economic Advisor to the Vice President (Dr Bawumia), Gideon Boako, asserted that the opposition National Democratic Congress (NDC) has no moral right cautioning the NPP administration against leveraging Ghana's natural resources, specifically bauxite through its partnership with China, since the Mahama's administration gave away 58 percent of Ghana's bauxite concession to Ibrahim Mahama, the sibling of former President Mahama (See: NDC sold 58% of bauxite concession to Ibrahim Mahama – Gideon Boako; citifmonline.com, 29/06/2017).

How do we advance as a nation when the siblings of an elected president, out of impertinent boldness and sheer greed continue to scramble for the resources of the nation as if tomorrow will never come?

In fact, all the available evidence shows that some friends and family members of people in high positions more often than not take undue advantage of the system.
Take, for example, the actions and inactions of some family members of former President John Dramani Mahama, in particular, his brother and businessman, Ibrahim Mahama, have arguably been having deleterious effect on the NDC.

In recent times, there have been numerous allegations levelled against Ibrahim Mahama. The most damning of such allegations is the 30 years bauxite mining lease which was issued by the Ghana Mineral Commission to Ibrahim Mahama and his partners on 29th December 2016, just a little over one week for his brother's government to exit power. How bizarre?

Unsurprisingly, therefore, many discerning Ghanaians fretted thy souls with curses and condemnations. And rightly so, the vast majority of Ghanaians contended that such a venture was nepotistic and must not and cannot be allowed to proceed without challenging its authenticity.

Consequently, the multi-billion cedi bauxite concession granted to Mr Ibrahim Mahama's company was revoked in September 2017 after the former Natural Resources Minister, John Peter Amewu, had contended vehemently that the contract to Exton Cubic, Ibrahim Mahama's company, was invalid.

According to Mr. Amewu, "The Company was supposed to provide an Exploration Operating Permit for the year 2017, an Exploration Operating Plan to the Minerals Commission. None of the above was fulfilled (dailyguideafrica.com, 24/11/2017)."

Given the circumstances, I will venture to stress that in order for our governance system to be fair and equitable, all political appointments and contracts offers must be based on merits, but not through vague coloration, nepotism and cronyism.
In sum, we cannot and must not allow the insensitive siblings of elected presidents to roam fecklessly on the corridors of power and take over Ghana's scarce resources to the detriment of the poor and disadvantaged Ghanaians.

K. Badu, UK.

k.badu2011@gmail.com