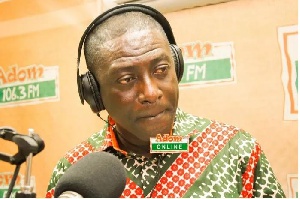 Time indeed changes. Not long ago, Adom FM journalist Captain Godsbrain Smart endeared himself to many a discerning Ghanaian by his audacious quest and determination to tackle corrupt officials in Ghana, in both the past and present governments, using his radio programme. Despite his alleged seizure of a married woman from her husband who is now said to be deceased in Belgium out of the consequential complications of depression, the culmination of his suffered broken heart, I was among those who still found hope for Ghana in his disclosures of government officials and other highly placed public servants that have embezzled State funds and assets.
Very unfortunately, he allowed himself to get carried away by his popularity. From the commendations by his phone-in listeners, he might have thought to be able to do and say what he wanted when he wanted, hence his present predicament. He has not only been sacked from his job but also, been sued by one Mr Ernest Thompson, the former Director General of SSNIT, for defamation. This man was alleged to have caused financial loss to the State by his role in the "procurement and operationalization of the controversial SSNIT Software".

Having received a WhatsApp message on the last straw that broke the camel's back, Captain Smart was vociferously castigating His Excellency the President, Nana Addo Dankwa Akufo-Addo, for insulting the entirety of Ghanaians, especially the chiefs and his own wife, First Lady Mrs Rebecca Akufo-Addo, by a speech he is alleged to have delivered most recently. I am yet to be aware of that speech and how I hope someone pointed me to it.

In spite of the said speech, Captain Smart demonstrated his childishness by his total condemnation of, and attacks on, the President and his NPP government for not been able to realise most of his electioneering promises to the nation and the people of Ghana. How does Captain Smart in all honesty, expect a government that has been in power for one and a half years to deliver most or almost all its campaign promises to the nation? Is he not exhibiting his stupidity and utter ignorance by this demand culminating in his uncontrollable condemnation of the President and his government through heaping insults on them?

A government that came to meet only debts but has managed to introduce its flagship promise of free Senior High School and has relentlessly been fighting the devastating illegal surface mining (galamsey) by putting its head on the block must not be condemned in the manner Captain Smart was heard on a voice-recorded audio doing. If he could not give them the benefit of the doubt by praising them, he should not heap insults on them. He cites the high prices of foodstuff from everything through to tomatoes and rats, hence calling the President and his government fraud and bogus and will surely be voted out in 2020 elections.

Captain Smart should have known better if he were that intelligent as he was brave. He should have come out strongly with the hidden facts on secretly committed acts of corruption by politicians and other public officials. The numerous promises by Nana Akufo-Addo are to be seen as long term projects but not a one term of four years or two terms of eight years projects.
I hope Captain Smart will humble himself to come out to man up (be brave or tough enough to deal with an unpleasant situation) and own up (admit to having done something wrong or embarrassing) to his insubordination and subsequently apologise to the President, the government, the people of Ghana and his employers for his gross misconduct instead of remonstrating against the authenticity of the voice on the audio-recording as not his. Why is he now trying to be a coward to let his supporters down? He must accept that he has erred and beg for forgiveness. Once he does that, there is the possibility that he will be pardoned to get his job back or be re-employed somewhere else to carry on with his good job.

If he had condemned the government of engaging in corrupt practices as already alleged by some people including Kwame A Plus and he has the evidence to that effect, many were those to support him rather than his senseless outbursts of anger at the person of the President to result in his prediction of the President and NPP losing election 2020.

Does Captain Smart prefer NDC to NPP to come to power to continue with the destructive galamsey to spoil the country's water bodies, arable fertile lands and virgin forests as well as pollute the air that we breathe? Does he want the NDC to come back to abrogate the free Senior High School, to stop the payment of teachers and nurses' allowances as well us to hurl on to the refuse dump all the enabling factors for creation of jobs being put in place by the government?

I would not have any qualms with him if he had accused the President of double-standards on the issues of bloated government, presidential staffers and cronyism, the repeat of the very sins by the Mahama-led NDC government.

I really feel sorry for the fate of Captain Smart since many a Ghanaian had faith in him as a rising star that had the potential to decisively help with the fight against the institutional corruption in Ghana. He is needed back but he must first render a heartfelt apology to all those he has falsely accused. We cannot do away with him but in the same vein, we cannot entertain his myopic attacks on the President and the government for not achieving most of their promises until now.
I recommend to Captain Smart, wherever he is at the moment, to read the contents of my previously published articles which may be of help to him to never again make senseless accusatorial statements. They are to be reached via the underlying web links.

https://www.ghanaweb.com/GhanaHomePage/features/The-Ghanaian-short-termism-expectations-affecting-Akufo-Addo-s-development-plans-637031

https://www.ghanaweb.com/GhanaHomePage/features/Ghana-s-development-plan-will-keep-retarding-without-30-50-year-national-plan-642149