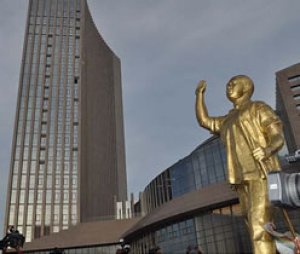 By Dr. Michael J.K. Bokor
Monday, January 30, 2012

In responding to news reports that the Chinese government has constructed and handed over a 200 million-dollar building to house the African Union in Addis Ababa, an Akwasi A. Afrifa Akoto has said that Ghana's former President, Osagyefo Dr. Kwame Nkrumah would have rejected the "gift" to Africa. He sought to imply that the gift was a "bribe." His opinions on the circumstances surrounding the gift may carry some moral weight but his conclusion is unguarded.

I disagree completely with him. Nkrumah would certainly welcome the Chinese and work with them to the extent that such a collaborative effort could help counteract the negative impact of the West on Africa.

In all his political work and ideological manouevres, Nkrumah had positive interactions with China and left no one in doubt about his admiration for that country's fortunes. More than any of his contemporaries did, he had very close ties with China and admired the development agenda that was being pursued there and in the erstwhile Union of Soviet Socialist Republic (USSR, now Russia).
I am yet to come across anything in his politics that suggests the contrary. Anything to indicate that he saw China as a threat or that he didn't think that China could help Africa in any sense may be someone's figment of imagination only.

Nkrumah even acted "Chinese," dressing in his political suit to emulate the Chinese leader, Chairman Mao Tse Tung. Will we forget his fondness of the Chinese Chou En-Lae? He was in cahoots with Romania's Nicolae Ceausescu and many others (e.g., North Vietnam's Ho Chi Minh, Yugoslavia's Tito) whose governance style emulated that of China.

Politically, Nkrumah had more to admire in the Chinese "communist system" than he would the so-called Western democracy. There was more to connect Nkrumah to China than to turn him against that country and disengage him from its global standing and interests. And he won't reject the Chinese just because of apprehensions of a future imperialistic ambition.

It is, however, disappointing that the AU couldn't put up the building to house itself but had to rely on a foreign power to do so. Couldn't the AU have mobilized funds from its member-states for such a project to give it more respect and autonomy? Or even the leverage it needs to rub shoulders with other continental bodies? Now, it seems to be a mere tenant, enjoying the largesse of China and boxing itself into a tight corner in the international arena. How disappointing!
I am not in the least proud of the AU on this score because its inability to house itself portrays it as irresponsible and pitiable. How can it assert its influence, located in a structure provided by China, which is doing all it can to be everywhere on the continent?

A few disturbing questions arise: How was the agreement with the Chinese for this project determined? And why the Chinese, in any case? Under what terms did the Chinese agree to construct this Headquarters for the AU? And what is the motive behind this offer by China? Certainly, China is not a "Father Christmas" to be doling out gifts, gratis!

Was Nkrumah's statue also built by the Chinese? Are our African leaders already embarking on a sell-out to the Chinese or are they genuinely pursuing strategies for the kind of cooperation that will bring in the much-needed resources to catalyze the continent's development and growth? What does this Chinese-offer entail, anyway?

I suspect something fishy here. In the first place, although it is not unusual for an endowed country to provide this kind of assistance to the needy, it beats my understanding why the AU went for China. Or was it the Chinese who went for the AU to suggest or offer that assistance?
Secondly, I perceive credibility problems. Having sold its conscience to the Chinese for this project, will the AU be bold to criticize China if it does anything at the global stage worth condemning? Or will the AU become a lackey of China and toe the line to be drawn in international affairs by China? Is there any future threat that China will take back this building if conditions change to its disadvantage?

By going to bed with China, is the AU setting itself up for punitive action by the West? Or has it thrown caution to the wind and is just grabbing things left and right because it needs resources to run its affairs? Having opened the floodgates now, what else will the AU receive from any power that seeks to use material gifts as a bait?

Are consciences are being sold to make us concerned, if not alarmed?

Obviously, the AU is on a slippery ground and will not be solving its age-old credibility problems if it continues to submit itself to such foreign influences anyhow. We consider the difficulties that it faced in asserting its influence during the Libyan crisis, for instance, to suggest that this new development will worsen that credibility problem. All over the continent, there are numerous storm centres; but the AU can't tackle the problems because it lacks resources and credibility.
To add more worries to its full plate obviously endangers its future viability. We want a continental body that can solve our problems and not stand tall in our estimation only as an irritant. As of now, the AU has gone beyond being a white elephant to being a nuisance if the account that it has given of itself so far is anything to go by. And now that it has begun depending on outside forces to house itself, it leaves room for more to be desired.

• E-mail: mjbokor@yahoo.com

• Join me on Facebook at: http://www.facebook.com/mjkbokor

• Get a copy of my novel, The Last Laugh (PublishAmerica.com, April 2009)