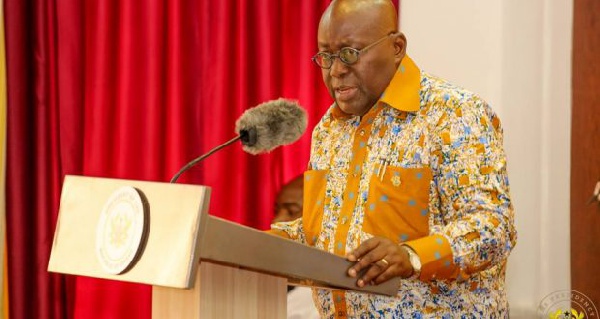 ▶ Click Here for Full AFCON Coverage ◀
In Public Relations (PR), it is said that every Chief Executive Officer (CEO) of an organisation is regarded as the chief PR officer for the organisation. He or she is always the foremost face of the institution, to the extent that even when he or she coughs badly in public, it can affect the image of that institution.
Woe betides that institution if it is publicly listed on the Stock Exchange.

And so, for Ghana Incorporated, our CEO, President Nana Addo Dankwa Akufo-Addo, is leading the Ghana agenda by example.

He has been consistent in spotting made-in-Ghana wears and promoting open neck shirts made from the "ntama" designs or African prints. It is not surprising that his move has been somewhat infectious for some shareholders of Ghana Incorporated.

Frequency and names of "ntama" designs

I tried an exercise by counting on daily basis the number of times as well as the names of the original timeless "ntama" design shirts the President wore and as captured in the media. At a point, I gave up counting because it was coming too frequently and I was losing track.
Be it from attending a festival as he did when he went to Akyem Abuakwa for the Ohum festival the other day, to meeting the media to account for his stewardship, or swearing in members of the Council of State, Boards of some state institutions, or new Envoys, whatever the occasion, so long as it is on Ghanaian soil, he has tried to identify with the people by way of his dressing, another PR plus.

Whoever has been doing his selection of local prints for him has been spot on with traditionally named and timeless local prints too. In my observation over a period of months, I have been trying to recollect the names of some of the prints he has been wearing and without reading meanings into them, I recount a few.

During his recent five-day working visit to the Central and Western Regions, he wore the "Akyekyedie Akyi" which when translated means the back of a tortoise, to a durbar with the chiefs and people of Twifo Praso traditional area. We all know how hard the shell of a tortoise is. He wore "Nsroma," meaning stars for a visit to the Effia-Nkwanta Hospital in Sekondi-Takoradi with transformational promises.

The other day when the leadership of the Tijaniyya Muslim Council called on him at the Flagstaff House, he wore his "Awherepo" or literally translated means sugarcane joints. He has worn "Felicia," "Nsubura," and many more other local prints whose local names I could not readily recollect.

It has set me thinking as to where all those beautiful prints of yesteryears vanished to and why we could not sustain the "Friday wear" concept introduced by the then and now Minister for Trade and Industry, Mr. Alan Kyerematen. The concept was to get Ghanaians to show off the Ghanaian in them by wearing their Ghana made clothes at least on Fridays.
A beautiful concept that was and I remember it caught on quite well only to have faded into oblivion.

Sense of pride

I agree that patronising and showcasing our own is the best way to promote country Ghana. And not only that, it instills a sense of pride in the people. That is why I have always admired the former President of Nigeria, General Olusegun Obasanjo. He made sure that wherever he went in the world as the head of state of Nigeria, even on a state visit to Buckingham Palace, he spotted his typical Nigerian attire and which distinguished him as a proud Nigerian.

We are looking forward to the day when our legal system will also localise their dress codes, to be precise, their robes and wigs. It may not be in our life time but hopefully, the country would one day get a Chief Justice who would make the change happen.

Infectious
The President's subtle campaign on made in Ghana wear has no doubt become infectious, particularly among his appointees.

Who, in times past, would have accepted a Vice President of Ghana Incorporated attending a dinner for a foreign dignitary in locally made shirt? Rare as it is, it happened with the Vice President, Alhaji Dr. Mahamudu Bawumia, when he recently attended a dinner hosted by the Ministry of Finance in honour of the President of the African Development Bank (AfDB), Mr. Akinwumi Adesina, who was on a visit to Ghana.

It was a beautiful deviation which brought some atmosphere of relaxation to the event.

The media did not take him on because we are all warming up to seeing the President himself championing the cause of made-in-Ghana wear.

And so, as the Vice President, the Senior Minister and many other appointees including Ministers and CEOs continue to embrace the concept of made-in-Ghana clothes, be it occasional, as part of their work attire, no doubt the idea will flourish sooner.
We all know the positive effects of what the patronage would mean for the textile manufacturers, for employment, direct and indirect, for the export market, and for the feel-good mentality of the people.

What we need now is for the Ministry of Trade and Industry to come to the aid of our local textile industries and all the allied industries, so once again, the concept of made- in-Ghana clothes would not fade away.

The Ministry coming in also means protecting our local markets from grey imports and unfair competition. The industry in turn should make their products affordable to encourage patronage.

We should make the Ghana wear concept work effectively this time round.