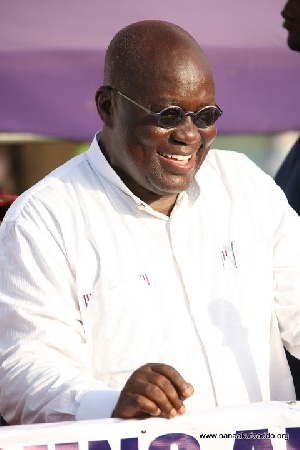 Since we cannot change reality, let us change the eyes which see reality" - Nikos Kazantzakis
AN ALL – INCLUSIVE GOVERNMENT? That should ordinarily be a brilliant idea– we are all Ghanaians. To err is human, so people who deliberately smeared Nana Addo should be forgiven and brought back into the 'fold'? We have heard some people proposing Ivor Greenstreet (leader of the CPP) for the position of Attorney General: Samia Yaaba Nkrumah and Papa Kwesi Nduom (of the PPP) for cabinet positions. Theoretically, yes: but practically, hmmm.

The dynamics of politics were different in 2000 when NPP did not field candidates in certain constituencies, especially given the support of other persons ( from different parties ) to NPP's success, That gave some persons an easy ride to Parliament; Mallam Issah ( PNC ), Papa Kwesi Nduom ( CPP ) were in Kufuor's Government. In 2016, the dynamics have changed. Apart from Kwasi Addai (Odike) of the United Front Party and Akpaloo of the Independent People's Party who openly declared their support for NPP, and assisted it in its campaigns, other oppositions lobbed on the common ground: 'change' – nothing more, nothing less.

Thus an all – inclusive government is a bright idea whose season has not come! Unfortunately. That could be recommended later. Rawlings's military PNDC and later his civilian NDC after de-robing, plus Professor Mills's period, robbed many potential Ghanaians of the chance to contribute their quota for 35 years, each year adding on to the age of the prospective politicians and political animals. The truth is that the past NDC government was vicious, towards some Ghanaians who were outside of it.

Daily Graphic editorial of Monday, December, 19, 2016 was spot on when it stated: "We urge the incoming administration not to terminate the appointment of public officials just because they are associated with the NDC". How we wish the same exhortation had been delivered in 2009.

Without compunction of conscience, and without a twinge of 'fellow – feeling' and 'human – ness', the NDC Government was quick to terminate the appointment of public servants whom they perceived to have affiliation with the NPP; in some cases, such persons were so frustrated in their jobs that they decided to call it quits! Nobody cared how they fared, cared for their families, attended to their health. It has taken eight long years for people to appreciate "the battle is the Lord's".
One may understand the ecstasy of the affected persons: bedecking their private cars with NPP flags and pennants. At the Ohene Djan or Accra Stadium on Sunday, 18th December, 'old' folks were gyrating and getting immersed in glossolalia or xenoglossy – the gibberish 'ha-ha-ha' sound, simply a labyrinthine amalgam of languages which towered over Babel. Championing it were: Cindy Thompson, Lucky Mensah, Praye Tenten, Praye Tiatia and Agya Koo.

The teeming youth who voted for 'change' deserve not just a pat on the back, but jobs for effectively aligning themselves with the NPP, and assisting in its success. They have all seen how their classmates became Ministers and Deputy Ministers overnight by aligning themselves to the NDC, got 'bloody' loaded and turned into 'babies with sharp teeth', giving instructions to their lecturers because they had become Deputy Ministers of Education. It was loudly proclaimed that the NDC was the party for the youth; the NPP was for the old fuddy-daddies.

Rewards?- It is tempting for people to turn their attention to 'confiscated' vehicles. These vehicles are not flotsam and jetsam. They are property of distraught Ghanaians who had struggled in the cold weather overseas.

When the vehicles arrive, some are caught by the 60-day rule for clearance as per section 59 of the Customs Act. 2015 (Act 891) and get 'forfeited' to the State. The part blatantly ignored is sub-section (3) which states: "The price at which a forfeited motor vehicle is disposed of whether by auction or sale, allocation or any other method shall include the duty and taxes eligible ( sic) on the motor vehicle".

The word ought to be 'exigible', oughtn't it? So, persons cast in the mould of Carl Somebody would put their own prices and sell or dash these vehicles to party faithful: a Toyota Corolla for GH¢ 3000; Toyota Prado for GH¢ 6000—some would find their way into their garages for sale at market prices.
The law on these confiscated vehicles requires an amendment, and any amendment should tilt in favour of the importer of the vehicle who had bought it from overseas, paid the freight, and got it shipped down. Liberal terms should be worked out for such an importer. It is not only unconscionable but downright illegal to have people combing the Car Park at Tema 'searching' for vehicles which have hit the 60- day ceiling, and carting them away immediately without getting these confiscated vehicles gazetted.

Some people do not even know or care that previously, importers were given 120 days to clear their vehicles: it was the need to decongest the port that led to the reduction of the period. Until 7th January, 2017, His Excellency, potentate, Negus Negusti, Vivacious John Dramani Mahama remains the President of Ghana. So, ministries, including Hassan Ayariga's can sign fresh contracts, recruit new persons into the security services and public service, give appointments to the head of CHRAJ and NCCE? Any critic to these episodes, is referred to the law. In William Shakespeare's 'Henry VI,' Dick the Butcher advises Jack Cade, the king: "The first thing we do, let's kill all the lawyers" .

John Gay in ' The Beggars' Opera' writes, "A fox may steal your hens, sir, A whore your health and pence, sir …, your wife may steal your Rest, sir, A thief your goods and plate,…if lawyer's Hand is fee'd, sir he steals your whole Estate". Where is morality; where is ethics?– Presidential morality; Presidential ethics. Sad, so sad.