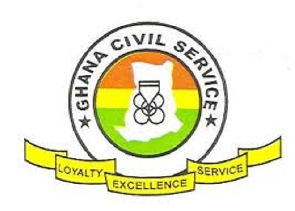 Prof. J.R. Atsu Ayee, the Ghanaian political scientist, wrote in the African Journal of Political Science (2001), Vol. 6, No. 1, that "the good old days" of the Ghana Civil Service (GCS) were the period immediately before independence to 1974.
That period is, unfortunately, the only one in history when Ghanaian civil servants were well trained, adequately remunerated and resourced to implement the policies of the machinery of government.

This "elicited in most civil servants the highest degree of performance and productivity".

Prof. Ayee observed that the decline was caused by a failing national economy after 1974, when there was also over staffing with incompetent junior staff, and the "brain drain".

His article, titled "Civil Service Reform in Ghana: A Case Study of Contemporary Reform Problems in Africa", provides evidence that those best days of the GCS was also when it had a "manageable" number of employees.

But even then strong men, both military and civilian had cause to complain about the lackadaisical attitude of civil servants.
At least three examples are given.

First, "in his famous Dawn Broadcast of 1961", President Kwame Nkrumah tagging Ghana's civil servants with "red tapeism" further chastised them thus: "It amazes me that up to the present many civil servants do not realize that we are living in a revolutionary era. This Ghana, which has lost so much time serving colonial masters, cannot afford to be tied down to archaic snail-pace methods of work which obstruct expeditious progress".

Second, Lt. Gen. E. K. Kotoka, a member of the National Liberation Council (NLC) administration, complained, 'things don't go as expected in the civil service'.

And third, "Lt. Gen. Ocran, another member of the NLC, also complained that in his ministries, unlike the army, the line of authority was ill-defined and diffused and civil servants often did not know who was responsible for what"(Legon Observer, 1967; Pinkney, 1972).

Ayee posits that the best GCS reform suggestions came from "the Mills-Odoi Commission on the Structure and Remuneration of the Public Service, 1967, and the Okoh Commission on the Structure and Procedures of the Civil Service, 1974".
It was the Okoh Commission that recommended "the creation of the Office Head of the Civil Service (OHCS) in 1979 by merging three institutions, viz., the Establishment Secretariat, the Management Services Division (known previously as the Office of Government Machinery) and the Establishment Unit of the Office of the President".

But the suggested reforms were never fully implemented due to the 31 December, 1981 coup.

Indeed Chairman Rawlings himself, in 1991, then in his tenth year as head of state, had cause to complain that even civil service confidential evaluations of individual performance "are just a matter of routine; almost everybody, that is, the hardworking and the lazy, get a good confidential report".

In a recent research publication, Kruyen and Van Genugten (2020) concluded from a survey of civil servants "own responses" that the focus should be on "more traditional competencies including analytical skills and political sensitivity".

The seven core competencies identified were: "cognitive, integrity, creativity, getting things done, communication and persuasion, leadership, and self-development".
Thus what Ghana needs are strong institutions built on a more "nuanced" application of "cognitive skills".

We might even benefit from some of Dominic Cummings, the chief advisor to British PM Boris Johnson's latest rumblings of seeking those with an outlier skill set – the "super-talented weirdos" – for the civil service.

The combination of party hacks and emasculated bureaucrats that make up the bulk of our civil service is not fit for purpose.

What do we have to lose?

Is it possible that anything else is better than what we have now?
Feedback; ato@writersghana.com; www.writersghana.com; LinkedIn, Isaac Ato Mensah; Instagram, @atomenswriters; Twitter, @Atomens; Facebook, Writers and Shakespeares Ghana; Telegram, Isaac Ato Mensah; Quora, Isaac Ato Mensah; WhatsApp (+233) 020 022 0353.

Writers and Shakespeares Ghana Limited exist to be a moral and intellectual guide to the best practice of PR and integrated communications around the world, beginning with Ghana.