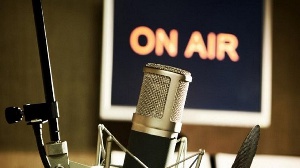 Whether it was the Devil's, Suarez's or Maradona's hand its recipients would live to remember it as a 'Black Friday'.131 radio stations had been found operating with expired licenses. 34 of them had had their licenses already revoked. But there's more to it than meet the eye. Owners will unwillingly have to pay roughly GHc1.18 billion, according to NCA.
When National Communication Authority (NCA) flexed its muscles on Friday 29 September 2017, it was obvious that there would be more casualties. Some of the stations now bleeding had been operating over two decades ago like Accra-based Radio Gold—the mouth piece of the opposition NDC couldn't escape the supposed heavy-hand of the communication authority.

They literally fell on the sword even though NCA had warned them of an impending operation way back in June this year. The radio operatorsignored the threats. Perhaps they thought it would be business as usual after all most of them had been operating illegally for nearly 17 years without licenses. But this happened to be a far-reaching operation. It was an exercise to sanitise the media landscape, thought to be choked and fraught with illegalities.

The operation is the first sign of the new administration flexing its muscles says this writer: Amid reactions from some quarters that it was harsh, strict, awkward and autocratic. This followed the completion of a nationwide FM Spectrum Audit conductedthis year to determine compliance of authrisation Holders with their authrisation conditions and also to find out which FM stations were in operations or otherwise. According to NCA the FM Spectrum Audit also forms part of a wider and on-going audit of all services regulated by the communication body, including TV and ISP services.

Also it came as the first since the closure of Radio Eye –a private FM Station in November 19 1994.

Twenty-three years on it's believed the Ghana Police Service still has in their custody equipment of Radio Eye owned by Dr. Yves Charles Wireko Brobbey alias Tarzan.

Is NCA Heavy-Handed? On August 13 2009 Ghana Tourist Board closed down 11 hotels and restaurants in the Ashanti region for operating either illegally or under poor condition. The operation according to the Board was part of a measure to enforce acceptable standards. The exercise was hailed as a step in the right direction by industry stakeholders. I believe that's how competition is nurtured.
So why is it okay to close down sub-standard restaurants and hotels, pharmacy shops etc. but it's kind of unthinkable for NCA to do the same to the media? Why is it cool to revoke licenses of some companies that operate illegally but NCA sanctioning of 131 radio station is viewed as a witch-hunting?

Not too long ago the Bank of Ghana (BOG) revoked the license UT Bank and Capital Bank because they were unable to address certain capital issue i.e insolvency. And they'd remained closed since August. BOG didn't get up and revoked the licenses of the banks it gave them what was considered ample time. NCA also gave offenders time to redeem themselves but they failed.

Per Section 13 of the Electronics Communications ACT (2009) Act 775: "The Authority may suspend or revoke a license on a frequency authrisation where (a) the licence or the authrisation holder has failed to comply materially with any of the provisions of this Act..."

That's how we can separate the chaff from the wheat.

So what makes this operation uncalled for and unwarranted? Why should we expend the tax payer's monies to build and resource institutions with the sole objective of making them effective and efficient but only to render them in a state of paralysis?

There'd been criticisms from the Ghana Journalist Association (GJA), Media Foundation for West Africa (MFWA),the NDC Minority in Parliament and other Associations.
Speaking a day after he was re-elected at the GJA elections to the media, Mr. Affail Money said dealing with the NCA's sanctions was "one major assignment our new administration is going to tackle with urgent promptitude."

"…we have a responsibility to rally to the defense of our members and even non-members when they find themselves in such unfortunate situations."

In this regard, the GJA is speaking with lawyers and a legal team "to put out a proposal and defense to help address this issue so we have agreed that by Monday, we'll make our voice heard on this matter."

Meanwhile, the Minority in Parliament believes it was an attempt by the NCA to monetise freedom of expression.

And is that true?

It's understood Accra-based Montie FM and Radio Gold, known to be pro-NDC, received the largest fine of GHc 61,330,000. According to the NDC the huge fines imposed on the stations were 'unreasonable'. But beyond that it thinks NCA's action was to see the collapse of these media organisations'.
George Loh a former Vice chairman of Constitutional and Legal Affairs of Parliament has said the NCA does not have the powers legally to close down 34 radio stations. He's also on record to have said that the NCA cannot escape blame for the debt these radio stations owe the government accusing them of sleeping on their job.'

"It is their rights to collect the money when it is due. …both sides [NCA and affected stations] have responsibilities. …in law they NCA sat on their rights", Lawyer George Loh submitted.

He argued that, though it's stated in the law that radio stations are mandated to pay levies for their activities but the stations cannot be blamed after six months if the NCA fails to ensure to execute its constitutionally mandated tasks.

There you go! It's all NCA's fault and not the law breakers. Those who operated illegally haven't done anything wrong. My question is: Do we really play by the books or we play according cronyism and nepotism? How did we get here?

But I think it all balls down to almighty politics.

Was it ECCO or the Auditor-General's Office that had MP's flocked at their premises pleading on behalf of public office holders who are suspected to have willfully caused financial loss to the state to be freed?
So if you want to know why NCA couldn't collect all its debts from these defaulters perhaps that's part of the reasons. Indeed that explains why the debts have peaked like Mountain Afadjato. As a people we hate to see our institutions grow and live up to expectation. We don't allow our institutions to work freely without manipulating them.

However, not everyone thinks the action by the authority last Friday was harsh and uncalled for. Sydney Casely Hayford a social commentator and financial analyst, believes the NCA clamp down on 131 radio stations for various offenses including operating with expired licenses,, would sanitise the media landscape. And I couldn't agree more with the social commentator on his viewpoint.

"The only people who are concerned and who are yelling for some kind of letting up of these fees are the social democrats. A lot of the stations are open not for commercial reasons or not for business reasons, but for political reasons. So many of them are out there just because they wanted to join the political fray, and they get set up overnight and they get frequencies. So this [the sanctions] will sanitize the system," he observed.

In a related development, IMANI Africa President, Franklin Cudjoe, says Ghana would be better off if other state institutions went by the book in the manner the NCA had done in its sanctioning of 131 radio stations, for various offenses.

"It'sa wakeup call and I suspect if every institution is doing that, without any political motive, it's the best way to go.What was the previous NCA doing that this new NCA wants to undo? It speaks volumes of the professionalism of the current NCA and its management," he rhetorically asked.

In a nutshell, I strongly believe we need the media to strengthen to our democracy among others. And it's only through media pluralism that we can achieve that. I am therefore hopeful that in the coming days or weeks all the affected stations will do what's required of them. I've no doubt that the NCA will tamper justice with mercy.