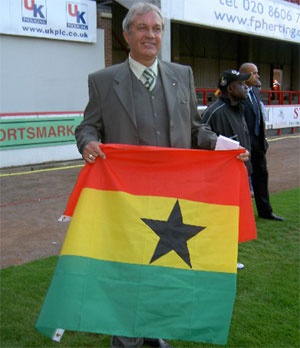 GIVE HIM A CHANCE TO BUILD A GREAT TEAM

The recent comments by former player; Polo, asking the GFA to fire Coach Doya because of the team?s dismal performance against the Warriors of Zimbabwe in their final Group D match at the ongoing African Cup of Nations in Egypt, and the fact that sentiment is also supported by many, is premature at best. Polo has been around for many years, and yet was not chosen to be the Black Star?s coach when the spot became available. Instead Serbian Ratomir Dujkovic was the chosen one. I admire Polo as a professional footballer and his achievements. While he is entitled to his opinion, I think the Stars? coach deserves much support than a call for his head. Interestingly enough, GFA boss, proved that Black Star?s poor performance at the African Cup of Nations does not mean he gets the boot. We want to win at all cost but we hate to lose and that is not a pretty sight. Mr. Nyantekyi has mentioned that he will stand by the coach. That is what should be expected of him, and not to listen to hearsay and fire his gun. According to the BBC Sports, he commented; "It will make little sense to sack a coach between now and the World Cup."


We definitely agree that the Black Stars performed poorly but did we call for his dismissal when he got us through to Germany? Going to the World Cup is historical; the coach even became a local chief out of this achievement. Some called him a messiah and others could not believe that Ghana has indeed QUALIFIED and everyone is vying to go to Germany and watch the Stars. The Stars qualification has even spun a dreaded underground business of visa contractors who have gone into high gear to take many poor people for a ride. Many showered praises on DOYA, on the day of Ghana?s qualification, the whole country went berserk with celebrations. Were the celebrations about hosanna then, and crucify him now?


Doya has a lot at stake at the moment and while the injury of Sulley Muntari and Essien should not be the excused for the loss at the African Cup tournament, we should not go for his head but must ask why the loss and what can be done about it. If some of the players are not playing up to par then they can be replaced by those who are committed.


Speaking of Essien, it was a thrill to see Essien remarked that; ?I have to say that I consider Coach Ratomir Dujkovic as my father and any difference in thought will be ironed out between us?. If the coach is not performing up to par and moral among players is low as a result of his incompetence, then I will follow those who are gunning for his dismissal. But this is not about performance or morale and the players including the renowned captain, Stephen Appiah, have publicly praised the chemistry and great work ethic of Coach Doya


I was also touched by a portion of Michael Essien?s press release; ?My playing for Ghana at the African Nations Cup in Egypt has never been in doubt until that career threatening tackle on me by Nigel Rio Coker of West Ham which you all saw on television, ruled me out of football for four weeks. You can remember that my club was even in the process of reaching an agreement with Ghana to delay my departure for the tournament similar to the accord reached by Cameroon over their Spain-based players Samuel Eto?o and Achille Webo?.

We all know the English league is the best in the world but at the same time have some players who play dirty. When Michael Essien was widely criticized for challenges on Bolton's Tal Ben Haim, Liverpool's Didi Hamann and Arsenal's Lauren, I predicted this African will surely get enemies and become a target. Even Didier Drogba urged fans to lay off Chelsea midfielder Michael Essien. Guess what, it did not take too long before Nigel Rio Coker of West Ham attacked him on the ankle ligament to keep him away for a while. 45eachway.blogspot.com was even impressed with Nigel Reo-Coker's hard man tackle on Michael Essien. They are even showing the tackle constantly courtesy of sportscorner.com, how absurd that is. Every Ghanaian must watch it and call it a hate crime.


Click on this link: (http://45minuteseachway.blogspot.com/2006_01_01_45minuteseachway_archive.html,) scroll all the way down to the bottom. Thank God for having mercy on Michael Essien and soon he will back in action to kick some butts for the Stars.


Essien closed with: ?I want to thank Ghanaians for their support and prayers in these difficult times.? I love Ghana very much, and therefore humbly plead that we all put our differences aside and focus our attention on our common goal of helping the Black Stars achieve great things at the World Cup in Germany.?


While the Ministry of Education and Sports will decide on the fate of the coach, it will be suicidal to get rid of him at this moment, it will not only destroy morale among players, it will take a while before players get used to another coach or build chemistry. Nobody changes a horse in midstream. The connectivity between a coach and players go deep and taking him out will hurt the stars immensely. The ministry must look at the report from the coach carefully and analyze where the problem occurred and correct the mistakes.


I encourage many of our brothers and sisters worldwide to be patient and rally around the Stars because they have a lot to offer. We all have different opinions but there is only one country; Ghana, that we are part of, so we should keep the fire burning and not give up on DOYA. He does not need a dismissal but love, understanding and support. All we have to do now is focus our attention on helping the Black Stars build confidence and succeed.