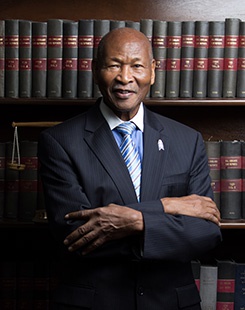 The former President of the Ghana Bar Association, Mr. Sam Okudzeto stated that brilliant and intelligent Ghanaians have been sidelined as far as running the country is concerned and instead, people who know next to nothing are calling the shots due to extreme partisanship in the country.
You see, grey hairs are signs of wisdom, but when some learned men and women with grey hairs decide to tell lies through their teeth, then the youth of Ghana has a bleak future and the future generations would remain ignorant liars. See "the Daily Statesman July 21st 2016 Page 3".

Sam Okudzeto is a Lawyer by profession and a strong member of the violent prone NPP. Ex President Kufour was elected as President of Ghana from January 2001 to Dec 2008. He never appointed any Cabinet Minister from the Volta Region throughout the 8 years that he was Ghana's President.

Again, he never appointed any Ewe as Commander of the Ghana Armed Forces, the I.G.P, Immigration, Ghana Revenue Authority (CEPS) the Prisons and Fire Service throughout the 8 years that he was Ghana's President. He made nonsense of Regional balance when it comes to appointments in the Public and Civil Service as enshrined in the 1992 Constitution.

Next, he told Ghanaians that he could not get any material from the Upper West Region to appoint as a Cabinet Minister, he did not even know that there was an Air Strip at Wa – the Upper West Regional Capital.

Sam Okudzeto is a Lawyer who closed his eyes to the NPP government which lined up prominent Lawyers, former ministers of state who hail from the Volta Region and sent them all to the High Court and Mr. Victor Selomey died in Prison and Mr. Tsatsu Tsikata was illegally jailed and released only when the NDC beat the violent prone NPP in the 2008 elections.
Where was Sam Okudzeto and what did he do as a professional Lawyer? He did nothing because he was more than happy about the class war initiated by the NPP from 2001 – 2008. It was rather people who knew next to nothing that was in power in 2001 and led by ex-Prez Kufour who established an office of accountability which ended up becoming the office of NPP kickbacks which were so huge that it could not be kept into a car boot as announced by Haruna Esseku – the then NPP National Chairman.

Kufour's government showed that his cabinet and all his appointees knew next to nothing as they bought all the Journalists of the private and State media as well as all the Fm radio stations like bags of maize except Radio Gold and the Vibe FM which the NPP Government closed down because they refused to be bribed.

All those Journalists described the NPP as a "media friendly government and shamefully closed their eyes and ears on the violent prone tribal grouping calling itself a political party by name the National Pick Pockets (NPP) which operates well in only two regions out of the ten regions of Ghana notably the Ashanti and Eastern Regions in Ghana.

Mr. Sam Okudzeto must be ashamed of himself for helping a particular tribe then in power to jail innocent former ministers, and other dignitaries from his home region in the Volta Region and I would have resigned from that vicious NPP government if I were him. The National Democratic Congress (NDC) had learnt enough from the reality of the situation in the country after the violent prone NPP used lies and vicious propaganda to win the General Elections in the year 2000.

From what Ghanaians witnessed in the current political and socio-economic atmosphere, the Ghanaian voters have had enough of the tribalism and diabolic agenda of the government from 2001- 2008 and rightly turned the table in 2008 to ensure that power is wrestled from a clique of greedy and evil minded politicians in the NPP including Sam Okudzeto.
NPP is the only political party that killed 24 women in order to win the 2000 elections. If you are a foul mouthed Lawyer, then I'm also a sharp tongued Cadre from Obuasi. Sam Okudzeto always speak before he thinks since the PNDC era in 1982 to date 2016.

He is an Ewe who looks down on his own tribesmen. Was it not his NPP government that treated most Ghanaian tribes as second class citizens from 2001 – 2008? Did the NPP not spend GH¢ 60 billion to contest the 2008 General Elections but was beaten by the then opposition NDC in 2009 after three run-offs? Where did the NPP members get their monies from to continue putting up several petrol filling stations across the country?

Did ex-Prez Kufour not tell Ghanaians that when you become President bribes start coming to you "waa, waa, waa" shamefully without blinking any of his blood shot eyes? Didn't he say that he will never accuse any of his ministers for corruption and destroy his government?

On corruption:

Didn't he say that it started from the days of "Adam"? Mr. Samson Okedzeto, who knows everything and should have been in government by default – what did you tell Prez. Kufour between 2001 – 2008 and what action did you take as a lawyer to even defend your own innocent tribesmen who were framed up by an abrasive and vicious tribal bigot like ex-Prez Kufour? Are you really a true Ewe? I doubt it, because I have been in the trenches with Jerry Rawlings from Oct 1979 – Dec 1981 after he handed over power to Dr. Limann in September 1979.
Incidentally Dr. Liaman wanted to kill Rawlings by turning the Military Intelligence (MI) operatives into a Death Squad and instructed them to shoot at any June 4 member on sight.

We rather used the June 4 movement to protect and support Rawlings by outwitting the M.I to overthrow that hopeless PNP government led by Dr. Limanm in 1981. I found out that 97% of Ewes are honest patriots serving the country in different positions in Ghana through my association with Rawlings an Ewe for 19 good years and beyond. Sam Okudzeto is among the 3% dishonest Ewes from the Volta Region.

In fact, he is an apology of a democrat in Ghana and a liability to the NPP whose fore bears crippled Ghana after killing innocent men, women and children from 1951 – 1956 when the NLM lost those election. So, come again, Sam Okudzeto.

Writer's e-mail: clementsang@yahoo.com