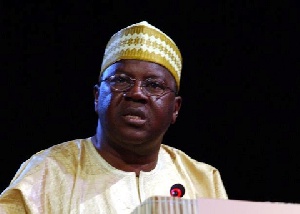 It is already six years since Alhaji Aliu Mahama passed on to glory and the memory keeps flooding into the forefront of my thought process as if it happened only yesterday.
On that scorchy Friday, the 16th of November, 2012, this nation was drowned in tears and grief at the news of the sudden passing of His Excellency Alhaji Aliu Mahama. It was a double tragedy. It is the first and only time in Ghana's history that our country suffered a loss of two distinguished statement (President Mills and Vice-President Aliu Mahama) in just one year.

Vice President Aliu Mahama showed the way with his humility, soft character, intellect, wisdom, and wit when he unexpectedly burst onto the political scene in 2000. Subsequent Veeps have walked in his noble footsteps even where and when they had stronger convictions on particular issues than their principals. He was a staunch patriot and a stalwart of the NPP tradition who honourably served his country.

It is said that great men never die. Alhaji Aliu Mahama was a great man and his legacy still lives on. The Aliu Mahama Foundation, his brainchild, till today serves as a social intervention vehicle that is alleviating the plight of dozens in deprived areas. The life he led serves as a guiding principle to many of his fans.

His tenacity in rising from his humble beginnings to a certified engineer, accomplished contractor and a successful politician is admirable. The uncountable talents he discovered, nurtured and gave them the platform to blossom will forever have the memory of the late Alhaji Aliu Mahama etched on their minds.
The input of the late Alhaji Aliu Mahama in propelling Ghana from low income country to middle income is historically recorded. His stewardship as the head of the Economic Management Team witnessed the most dramatic transformation in the history of the Fourth Republic. President Kufuor in his own words corroborated these facts.

Former President John Agyekum Kufuor said, "Aliu contributed significantly to the success of my government and was a pillar of strength in the New Patriotic Party...."

No man can fight death; and this is a fact of life we all have to understand and know that, one fine day, we shall have no option but to beckon to the call of our ancestors and depart to the land beyond. Most certainly, Alhaji Aliu Mahama answered the divine call and had to leave this world of sin into the high heavens of sanctity and tranquility.

The intense emotional shock of the absence of the asset to the North remains with every recollection and may take decades to recede from my memory. We, however, take condolence in the belief that Alhaji Aliu Mahama is resting in the eternal bosom of Allah and that his legacy is upheld-sky-high by his son, Alhaji Farouk Aliu Mahama.