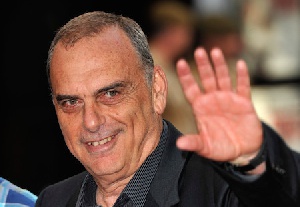 Wed, 10 Dec 2014 Source: Today Newspaper
Scores of Ghanaian football enthusiasts have welcomed the decision by newly appointed Black Stars coach, Avram Grant, to meet suspended Sulley Muntari and Kevin-Prince Boateng ahead of the 2015 African Cup of Nations (AFCON). Those who are in support of the move have described it a timely one, stating that it has come at the time when many Ghanaians, particularly football fans, are seriously preparing to hit the streets to register their displeasure about the unresolved long-standing dispute between the two senior players and officials of the Ghana Football Association (GFA) headed by embattled Mr. Kwesi Nyantakyi.
Mr. Grant on Friday, December 5, 2014 made public his intention to meet the embattled two top players. The new Black Stars coach will meet AC Milan duo Essien and Muntari in Milan and then travel to Gelsenkirchen to meet Schalke 04's K-P Boateng.

Muntari was thrown out of Ghana's camp at the 2014 FIFA World Cup for his violent behaviour when he attacked and punched a Ghana FA official. Boateng was also expelled from camp for insulting then head coach Akwasi Appiah. Essien refused to warm-up before the Black Stars game against Portugal in the final Group G match in Brasilia.

Essien's conduct was referred to the Ghana Football Association Executive Committee for punishment and has since not been invited to the national team. The GFA has insisted the two will only be admitted back into the senior nation team if they publicly apologise to the Ghanaian populace.

Although Ghanaians were of the view that the indiscipline postures exhibited by the three top players of the Ghana senior team—the Black Stars—were uncalled for, they believe that bringing back the three influential players will be good for the team to excel in this year's AFCON tournament. In fact for us at Today we totally agree with the GFA that Muntari and Boateng especially must apologise to the entire country.
The point is that discipline is key to success. We on this paper used this medium to condemn the unruly behaviour of Muntari and Botaeng at the FIFA World Cup tournament in Brazil. And we did that on the grounds that we taught these were players who had seen it all and should have known better.

It is important that we send a strong message to our players that nobody is above Ghana. That the country will not condone indiscipline—pure and simple! We should not rush into bringing them in on the reason that these are players who can help the senior national team. Absolutely no!

Indeed when we do that there is a portending danger that other players will do same and have it in mind that because Ghana needs them they will be certainly be recalled into the senior national team. In that respect we will only be breeding indiscipline players in our national teams which will not bode well for the country.

And to every player that will be part of the Black Stars we call on them to always think of Ghana first before other considerations. It is only when we have strong and disciplined national teams that we will be able to win more laurels for the country
Source: Today Newspaper