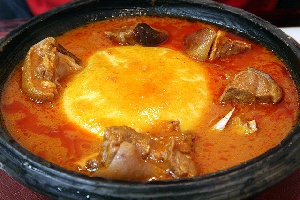 By: Kwesi Atta Sakyi
(This article on Fufu Eating in Ghana will benefit those doing studies in Crop Science, Home Economics, Food Science, Cultural Studies, among others)

Fufu eating among the Akans of Ghana is a kind of ritual whereby fufu is eaten in a communal way, and all the members of the family partake in it at the same time. It is deemed cruel not to leave some of it for a family member who is late in coming home.

The continued eating of fufu brings tourists to Ghana because Ghanaians in the Diaspora introduce their friends to fufu and they get hooked on to it so much so that they come to Ghana to pay homage to Akwaaba (Welcome) country, or fufu country to see for real the dexterous and creative wood carvers who make the mortars and pestles for fufu pounding, and the earthen-ware pot weavers who make the various shapes and sizes of fired black pots and hemispherical Asanka bowls or receptacles for the soups and fufu.

Some families in the urban areas eat fufu at the weekends whilst families in farming communities eat fufu every day, normally in the late evenings when they come back from their farms after an arduous day's work. Some well- to -do men ask their wives to prepare them fufu early in the morning or sometimes at mid-day during lunch time. This writer's father preferred to eat fufu around 4 p.m when the writer had knocked off and had come home from elementary school. That was in the 60s.

His father believed that fufu should be eaten early in the day for it to digest. Sometimes, eating that early would make the writer and his siblings to become hungry again in the night, and they would resort to eating some bread with tea or having roasted corn and groundnuts as a delicacy. This writer has lived outside Ghana continuously for the past 47 years (of course with visits home as often as possible), and has not had many fufu-eating opportunities as much as he would have wished, but then humans adapt to their environments, don't they?

Retailers, restaurateurs, and many marketeers in Ghana make a living out of selling fufu-making ingredients and accoutrements. Fufu is big business in Ghana; no wonder Unilever and other manufacturers have cashed in big on the situation by selling Royco, Maggi cubes and other ingredients because they know that Ghanaians like titillating their palates with sweet, palatable, appetizing, delectable, and sumptuous meals.

However, many Ghanaian women spoil their soups by the overuse of imported tinned tomatoes which make the soups lose their natural flavour as they taste sugary, artificial, and insipid. They are better advised to use these tomato pastes in moderation for rich colour. Women entrepreneurs in Ghana play a big role in driving the fufu business in Ghana. They retail all the ingredients in big and small markets throughout Ghana as well as in small corner shops. We should doff off our hats to them especially during this International Women's Day which falls on 8th March, 2017.

Cassava output 2014

Nigeria 54.8 million tonnes

Congo DR 14.7 million tonnes

Ghana 2012-Output of some crops
Cassava 14,547,000 million tonnes

Yam 6,639,000 million tonnes

Plantain 3,556,000 million tonnes

(Source: https://agriknowledge.org/downloads/dr26xx473)

Output of Plantains 2012

Ghana 3.6 million tonnes

Cameroons 3.5 million tonnes

Nigeria 2.8 million tonnes

Ivory Coast 1.6 million tonnes

(Source: FAO, 2014)

Output of Yams 2012
Nigeria 32,318,900 tonnes

Ghana 6,638,867 tonnes

Ivory Coast 5,674,696 tonnes

Benin 2,810,745 tonnes

Togo 864,408 tonnes

Cameroons 537,802 tonnes

(Source: https://en.wikipedia.org/wiki/yam-vegetables)

The output of crop statistics displayed above shows that Ghana is the largest producer of plantains in the world followed by the Cameroons. In Ghana, the Ashanti, Brong Ahafo, Eastern, and Western Regions are the leading producers of plantain. Plantain is also common in Tanzania, Uganda, and Kenya where they call it Matoke. Nigeria is by far the largest producer of yams and cassava, so they are naturally also big fufu eaters.

There are special grand market days in Mankessim, Kasoa, Asesewa, Asamankese, Bawjiase, Begoro, Salaga, Mampong, Kejetia, Agogo, Nkawkaw, among other ones in several parts of Ghana, during which occasions one can find almost every type of crop grown in Ghana, plus all types of protein sources such as snails, crabs, fishes, meat, chicken, mushrooms, and all types of beans.

Farmers in many parts of Ghana survive by selling their farm produce to these market mammies in the supply chain. Without their input, there will be no food security. Agriculture in general is to subject to wide fluctuations or upswings and downswings in output due to the exploding and divergent cobweb theorem and the hog cycle, resulting in buffer stock management, government subsidies, and many forms of intervention to avoid market failure and negative externalities. The EU have their Common Agricultural Policy (CAP) to support farmers with subsidies and guaranteed markets.

Many times in the 80s, 90s, and at the beginning of this millennium, this writer would return to Ghana from the Diaspora only to find that everyone in Ghana was looking plump and obese, and he would wonder what they had been doing to themselves. You can guess; digging in hard into their fufus whilst the writer was living outside Ghana eating unpalatable foreign dishes!
Be that as it may, Fufu-sophy is the ancient wisdom of the Akans handed down to children by the elders after eating a healthy bowl of fufu. Fufu, unmistakingly, features prominently in Akan folktales with Ananse always weaving cobwebs around fufu-gastronomies to ensure that he apportions to himself the best part of fufu meals, to the exclusion of his family members, but inexorably, he is often the victim of his own greed, avarice and devious scheming and machinations.

Chinua Achebe in Things Fall Apart wrote that sometimes when in-laws and their daughters- and sons-in-law were at chop bars, they would not see each other at first because of the heaps of Fufu Mountains between them. It was when they had eaten huge portions of fufu before they would realise they were sitting opposite each other and then they would shake hands over the remaining portion of fufu to their own discomfiture and embarrassment, because in-laws are not supposed by custom and tradition to meet in communal places as they should give each other space as a sign of respect. Hmmm, Ghanaians also love their mountains of fufu just as the Ibos and Yoruba of Nigeria do, and this writer wonders what prevails among them when observing culture space.

Guys who love their meat, whether goat, dog, cat, chicken, beef meat, among others, will buy their meat through contributions made by them and they will task their ladies to cook them fufu and light soup so that after soaking themselves in their favourite drinks, they will come home to roost and do justice to their fufu and delectable soups. (Guys who drink heavily always prefer hot pepper soup or light soup). Guys like banding around at the week-ends such as Independence Day (Ghana@ 60), or the usual Easter and Christmas festive periods for their drink-ups.

Some will go for local beers such as Club, Star, Guilder, ABC, Guinness, Becks, among others. Others will fall for the popular local gin made from the palm tree or the raffia palm and called differently as Akpeteshie, Akpio, Ogogoro, Agbaa, Ohyew, VC 10, Kill-me-quick, Kasapreko, Mandingo, Kalahari, Tot, Quarter, Bramsco, Lawyer, Fa bi nantsew, Fa me y3, Ambodzin, Ab3, Schnapps, Mola, among others. Drunks or drunkards after downing many skeins of such hard local stuff cannot go without looking for fufu and delicious soup as respite.

Fufu comes with a lot of symbolism and rich folklore, and as such, it should feature prominently in our tourism calendar circuit with a fufu-eating competition or fufu fair. The enjoyment of fufu is directly proportional to the type of soup which accompanies it, and inversely proportional to the physical exertion which is expended in its preparation. Gas will say, Fufu, ewaaa d3nky3, whilst Hausas will say, Fufu abinci, y3waaa. The Yoruba will say, Fufu odumi goo ni. The Ewe will say, Fiti d3 ekyi, lom na va. Va mi di nu. The Nzemas will intone, Fufu, 3y3 bue3! The Sefwis will say, 'Beeli ali3. Fufu, 3mbodii nkaan'

One would ask, 'Is eating fufu healthy?' Well, it depends. Too much of everything is bad. Cassava is said to be poisonous as it contains cyanide which can cause blindness. Not all cassava species contain the same amount of cyanide as it depends on the variety of cassava, the type of soil where the cassava is planted, and the preparation of the fufu. The cyanide is the reason why some people peel the cassava and soak it in water for some days to remove some portions of the cyanide. That is how the Yoruba do it in Western Nigeria prior to pounding their cassava fufu. Not so with their yam fufu or iyan and ob3 nla (big soup).

Few Ghanaians these days know the Akan names of trees which are used in carving fufu mortars and pestles. This writer does not know them himself. However, the Akan tree names he knows are Osina (Dialium Guineensis), Odum (Iroko/Chlorophora Excelsia), S3s3, Odom (Erythrophleum Guineensis), Wawa (Triplochiton Scleroxylon), Asene, Odanta (Nesogo Gordonia Papaverifera), Onyankyer3n (Ficus Exasperata), Ofram (Terminalia Superba), Takorowa (Hymenostegia Afzelii), Adubiya (Manilkara Multinervis), Esa (Celtis Mildbraedii), Opapaa (Afzelia Africana), Kyenkyen, Twenedua (Cordia Millenii), Onyaa (Ceiba Pentandra), Katakyi (Microdesmis Puberula), Opepea (Bridelia Grandis), Okoro (Albizia Zygia, Odwen (Baphia Nitida), among others.

We should continue eating fufu in Ghana to preserve aspects of our culture such as knowing the local names of trees in our culture which are fit for certain purposes such as making pestles, mortars, canoes, stools, furniture, for construction, for charcoal, for firewood, among others.

Our mothers know a lot of hygiene and we should continue patronising our indigenous Ghanaian cuisines such as fufu eating culture, as the Indians and Chinese do of their own food cultures. Without culture, we perish. That is fufusophy for you or fufu-semantics. Fufu prepared and eaten the local natural way is the best and not the pseudo-fufu powders which are bagged and sold in the Diaspora as substitutes. Some of them are potato powders which lack the vintage elasticity and viscosity of naturally-prepared fufu.

Contrary views are welcome.

(The author is Head of Research at ZCAS University in Zambia)
Email: kwesiattasakyi449@gmail.com

References

Google (n.d.) Ghana Place Names-Trees [Online] Retrieved from

https://sites.google.com/site/ghanaplacenames/tools/trees

Kurian, J.C. (2010). Healing Wonders of Plants Volumes 1 and 2

Zambia: Zambia Adventist Press

Kurian, J.C. 2010 Healing Wonders of Plants [Online] Retrieved from https://books.google.com/books/about/Healing_Wonders_of_Plants/html?id

www.ghanatimber.org/species.php

https/en.wikipedia.org/wiki/yam-vegetables

https://agriknowledge.org/downloads/dr26xx473