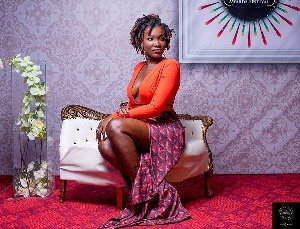 In the early hours of last Friday, the heavy sledgehammer of death struck again. It's a big loss because there is nothing to gain. This time, the victim was one of the country's finest, upcoming musicians, popularly called Ebony.
Together with two others, they perished through a very avoidable accident, which is one too many.

Earlier in the week, 14 people had died through another accident.

The victims belonged to a single family but there was very little said about this unfortunate incident.

We find these daily occurrences normal because accidents are now becoming common developments in the country and we all look on unconcerned.

When death strikes, we mourn, bury and make merry but we never care to patch.
Last Friday, under normal circumstances, the radio and television stations and the print media were going to be bombarded with discussions from the brilliant expose of the President when he delivered his second State of the Nation Address (SONA) to Parliament. From very informed positions and from a very weak and baseless stance, we were going to juxtapose the real issues on the ground as against the various things the President said, purely using the lenses of his government and that of his party.

But that was not to be, death again robbed us of this unique opportunity which would have helped shape the national discourse and guide the future as far as the implementation of government policies is concerned no matter how nasty.

Between the hours of 5.30a.m. till now, the topic is Ebony. Some said very good things about her talent and very short life on earth, others spoke evil and attributed a whole lot of ill sentiments about her just because of the way she presented herself in public. To others, she was what she had to be and lived as long as she ought to live. Life must go on. On the airwaves, her songs dominated and on social media, many other things, the good, the bad and ugly were the order of the day.

What lessons

It is a painful loss, no matter the lenses used in assessing this lost gem. But there is a fundamental issue we need to, as Ghanaians, reflect on to ensure that these mistakes become a thing of the past.
First, we must be concerned as Ghanaians about what goes on around us. We seem not to care about what happens around us and wait until disaster strikes then we talk and go to sleep again.

It is a common feature in the country to find local road contractors being the cause of many accidents in the country. Many of them, in the discharge of their duties, fail to mark the project sites as warning spots. They also never, or if anything at all, seldom mount road blocks with signs to warn oncoming vehicles about any danger. In the end, many innocent lives are lost on the road and there is nothing done to them.

Second, most of our local contractors never execute works to satisfaction. A look at many of the roads constructed by local contractors reveals very serious defects which often leads to accidents. Roads constructed within weeks develop manholes. Drivers who try to ignore the bad nature of the roads often end up in accidents. Suffice to say that some are also very good but those ones are very few.

Third is the lack of supervision on the part of road agencies in the country. It is easy to state that most of the shoddy works done by our local contractors happen because there is virtually no supervision from anywhere. If the agencies claim they do, then we must assess their qualifications again because no qualified and sensible supervisor will approve shoddy works. We have noted with pain how some politicians praise contractors even when they have executed projects below par but for the bribes and corrupt nature of these politicians, they pass what is obviously shoddy work.

Finally, we as citizens are refusing to raise our voices in protest when we see some of these death traps. That so-called heap of sand that caused the sudden demise of our beloved girl and two others was noticed by many motorists who plied that route. Unfortunately, none raised a finger to point to that as a death trap. We see all the ills in our society but we keep mute.
Conclusion

During his inauguration as President, Nana Addo Dankwa Akufo-Addo, asked us all not to be spectators but citizens.

We are dying needlessly because everybody is quiet over the things that kill us.

We should also not lose sight of the fact that, once on the Accra/Tema motorway, former President Jerry Rawlings nearly lost his life because of the recklessness of a trotro driver. Former President J.A. Kufuor also nearly perished because of the act of another reckless driver. Former Vice-President Alhaji Aliu Mahama, lost one of his revered bodyguards because of the recklessness of a tanker driver. This shows that, none, no matter the status, is insulated from these tragic accidents because one silly mistake from a bad driver can cause multiple deaths.

Who is next, as we continue to keep our mouths shut over the very necessary things and rather discuss irrelevant topics using questionable characters who only make a living from talking nonsense. I am a citizen.