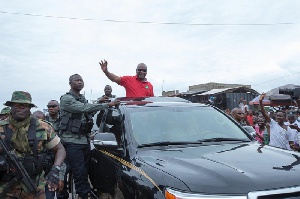 The Communications Director of the New Patriotic Party in the Eastern Region, David Prah has described President John Mahama and his appointees as being afraid of Nana Akufo Addo presidency.
Speaking to Bryt FM's Nyarko Abronoma via phone, Mr. Prah emphasised that the NPP flagbearer is not corrupt and will not steal from the state if voted into power.

According to him, that distinguishable characteristics of the NPP Presidential Candidate makes him envious of his political opponents especially the ruling NDC.

"President Mahama and his corrupt appointees are afraid of their own shadows chasing after them hence resorting to tribal politics but Nana Addo is poised to develop the state with the resources we have" He asserted.

Mr. Prah, however, urged Ghanaians to believe in NPP's "one district, one factory", "one village, one dam" policies as well as reviving of the NHIS which is malfunctioning, building of modern stadium for Eastern region among many others.

He therefore called on Ghanaians to reject the NDC and rather consider the NPP in order to restore hope to the ordinary Ghanaian.

Below are some corrupt allegations he cited against the Mahama - led NDC government :

? Armajaro cocoa scandal
? Embrer Jet scandal

? Tema community 3 ramseyer site illegal acquisition

? Suba scandal

? Sada scandal

? Gyeeda scandal

? Woyome scandal

? Construction Pioneer (CP) scandal
? African Automobile scandal

? Bus Branding scandal

? Ford Expedition Bribe scandal

? Brazil World cup scandal

? Nayele Cocaine scandal

? Merchant Bank Sale scandal

? 419 Hope City Project scandal
? Fraudulent Ameri scandal

? DKM 419 scandal

? Watervile scandal

? Fraudulent Jet Hanger scandal

? Capacity Building scandal

? Heritage fund loot scandal

?Isofotone scandal
? Presidential Diaries scandal

? Karpower scandal

And the collapse of the Social Intervention Programmes such as NHIS, School Feeding, Capitation Grants, Free Maternal Care, Free Bus Ride by school children and the aged.