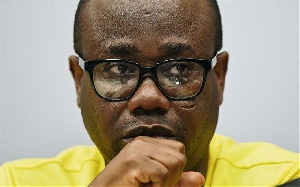 Once again, Tiger Eye, PI, has reminded us of our greatest enemy, corruption. This time, the man at the centre is GFA President, Kwesi Nyantakyi. Other names are in the shadows, waiting to be revealed. It seems that regardless of what is promised, corruption marches on.
There have been coups-- and executions-- and new laws-- and new Presidents. And yet, corruption or the perception of it keeps marching on. We are all against it, rhetorically, and yet, it marches on. It may be that the President is fighting it, as he pledged, but if he is, the effects are hard to see. Inexorably, he is losing the confidence of the public in that fight.

Suzy Kassem was right that "In these times, a great leader must be extremely brave. Their leadership must be steered only by their conscience, not a bribe." Unless he takes drastic action, this President, like all those before him, will lose the fight against corruption and that would be tragic. By the way, when would Martin Amidu start going to court?

This leads to the law enforcement agencies.

In the last few years, Tiger Eye, PI, has given us exposeés on Customs and Excise, Mental Health and the Judiciary. And not much justice has followed these exposes. Why is there little consequences for the corrupt? If a private investigator can find so much, why can't the Police, EOCO, BNI, CHRAJ, and others, who are paid at public expense find anything? Why are we not holding them to account for their dereliction of duty?
As for Tiger Eye PI, while I admire their exposeés, we must all be troubled. How are they funded? Do they operate within the law? Who picks their targets? Can they be used to target some people? Are they fair? This last point was highlighted by the advance viewing by the President and VP of their latest tape in advance of release to the public.

Finally, I am saddened by the glee with which we greet the fall of others. Mr. Nyantakyi and others have not been charged and are presumed innocent until proven guilty. I want justice to be done, fairly and evenly to all concerned. In the meantime, join me in praying for him, the President and the fight against corruption.

May God bless Ghana.