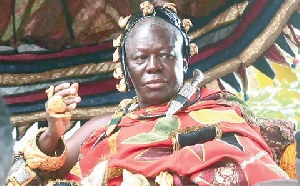 Not being prejudiced, I did not doubt the veracity of the information communicated to me from a reliable source regarding how Asantehene had attempted to seize me. On my recent holiday to Ghana, I was tipped off to how the Asante Overlord had arranged some military and police personnel cum what may be called his "hit squad" to proceed to Kumawu to grab me. This was in the year 2016 when I had gone home to participate in the then ongoing electioneering campaign that brought the New Patriotic Party (NPP) to power.
?

The story goes like this, he had secretly conducted investigations into my background; where I live, or could possibly live, in Kumawu, and my parents' name. He had sent his secret agents to Kumawu to gather information about me. For how long they were there, I cannot tell, and only God knows. However, when he finally dispatched his team tasked with finding, grabbing, and taking me to him in Kumasi to answer to him why I continually write about, and insult, him, it was too late for him to achieve his objective. Their mission became fruitless because I had already left Ghana two weeks earlier.

Someone from within the circle of the plot had his heart touched by the hand of God. Out of pity for me and desiring that the deadly malice hatched for me did not materialise, ran to someone very close to me to inform the person of the plot. He instructed the person to try to get me notified about what was cooking. However, I was already two weeks departed from Ghana to the United Kingdom. This is how God saves those on whom His mighty hand is upon.

?

Could Kwame A Plus' song titled, "Moaye Late" under the YouTube link below not fit the description of their mission impossible?

?
Is it easy to harm the God's anointed one if you have not been given permission by God? To me, the answer is a NO! Unless God has given my life into the hands of whomever, nobody, with nobody emphasised, can harm me. I have a mission here on earth to accomplish among which are to liberate Kumawuman subjects from their slavery and mind-boggling mistreatment under the hands of some rogue traditional rulers and to be a mouthpiece for the defenceless poor and needy in the society.

?

My greatest concern is about who has left the security personnel at the disposal of Asantehene Otumfuo Osei Tutu II to instruct and use them for his completely nefarious intents. Are all the chiefs, or the kings in Ghana if any, allowed the same protocol? Or, is he the only one to whom such a protocol is extended because he is the primus inter pares among the other chiefs in Ghana?

?

I wonder why Ghana is a republic yet, traditional chiefs are still allowed unfettered rights to do as they want when they want as typified by the Asante Overlord, Otumfuo Osei Tutu II. What have I so far written or said about him that is false? I have time and again stated that he has no right to interfere in Kumawu chieftaincy dispute let alone, impose a royal candidate of his collusive choice on Kumawuman subjects as their paramount chief (Omanhene). He has no right to seek to dubiously avail himself of Kumawu stool lands and/or money yet, he is doing the contrary at the expense of the people and the traditional area's development.

?
Have I not published for the public information some supporting evidential documents to my claims against Asantehene? Criminally desiring to harm me using some rouge security personnel as may be sanctioned by his friends in government or using his "hit squad" if he has any, is unacceptable. He can claim to be above the law but once he is caught red-handed to have masterminded and orchestrated the death of anyone, he will see if the law will spare him.

?

The truth indeed hurts. He feels uncomfortable with the truthful assertions I make in my publications. If that is his worry, why doesn't he stop involving himself maliciously in the Kumawu chieftaincy dispute to save himself from further unpalatable disclosures and embarrassments?

?

I am not born to die at the hands of any rogues but to die a natural death. Therefore, any machinations perpetrated against me by Asantehene and his cohorts shall not stand.

?
Is it true that he sent people to look for me? Why not sue me if he believes I am slandering him for nothing rather than arranging to kidnap me? I am proud to announce to the whole world that the greater hands of God are upon me and being His vessel, He will use me to achieve freedom for the citizens of Kumawuman. Should I be looking over my shoulder in case some rogues are following me to hurt or kill? No way!

?

Let me conclude with these Jimmy Cliff's songs "Born to Win" and "Time Will Tell"

?

SUGGESTIONS:

?
The government must ensure that soldiers and police officers are not placed at the disposal of chiefs to use them for their selfish criminal ends. Asantehene must not deceive himself into thinking that he has the right to arrest or order the killing of any Ghanaian as and when he wants and can get away with it. Let me give him the benefit of the doubt that he did not send people to search to arrest me, although I believe the source from whence came his attempt to find me in 2016.

?

The truth, I shall always say. And, the truth shall set me free. More info will be made available to the public as time goes on. I shall not give up the fight to see that justice and peace prevail in Kumawuman to set the captives free.

Quoting now His Excellency the President, Nana Addo Dankwa Akufo-Addo's campaign slogan, "The battle is the Lord's", and as it worked for him when every hope was almost lost with President Mahama trusting his set election rigging machines hence doing the Usain Bolt, so SHALL it work for me and Kumawuman regardless of what Asantehene and his colluding supporters in government do.

?