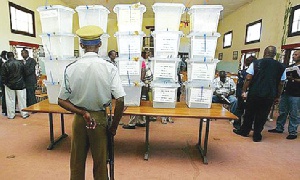 An election year should be like a beauty pageant. Easy, relaxing calming and reassuring. It should be the moment where things work at their very best. After all it is an election year.
It should be the grand mammoth where citizens are reminded of their collective power; and the crucial role they play in our democracy.

It should be the year when the citizen feel kingly and queenly as they scratch their heads, cheeks and beards whiles looking straight into the eye of the politician standing by and make that decision as to whether they want them in the public space or not.

An election year should ordinarily remind us of the communal power and authority that the Constitution grants us. This is the year that many swore to show politicians "where power lies."

There is no gainsaying that elections are an essential part of our democracy. Few will dispute the fact that the choices we make in an election year (to support or not to support a candidate) is one of the most crucial decisions we can ever make in our nation building.
We must therefore admit that the drunken environment and the sense of insecurity that is usually effervescent alter in some way our ability to arrive at a firm and concrete decision.

Elections are capital intensive. So it must be worth our while. Take the upcoming elections for instance. The United States government is providing US$ 4.5 million to the Ghanaian government to support it with its electoral activities.

The United Kingdom (UK) has announced a £4-million programme to strengthen democratic governance and promote free, fair, peaceful and credible elections in the November polls.

The Finance Minister, Mr Seth Terkper, in delivering the 2016 budget under the theme "consolidating progress towards a brighter medium term" noted that an amount of GHC 826,897,772 has been allocated to the Electoral Commission in order for it to fund its activities.
Out of this amount, GHC 822,897,500 is from the government and GHC 4,000,272 is from the development partners.

The portion coming from our development partners is likely to experience a nosedive in subsequent elections as the United Kingdom has served notice of their intention to no longer support us because of our middle-income status.

The costly nature of elections is further exacerbated by our peculiar attitudes and behaviours. It seems we do not even know how to dance to the rhythm of an election.

The likes of Star Ghana and other civil society have to pump in huge investments training journalists, lawyers, courts, military and the police on how to conduct themselves in an election year. Very soon sponsored radio jingles and television commercials are going to be a common feature.
The President in the state of the nation address admitted that, "the bane of our economic management has been the cyclical huge election year budget deficits. It is an unfavourable narrative for which Ghana has become famous."

The president went on to "assure the nation and our partners" of his administration's "will to exercise strict fiscal discipline even in this election year."

Investors are always cautious about an election year. They are either scared of the impact of a change in government on their business prospects; or a mishap on an election day that is likely to take the country down an unsavoury path as is the case in most countries on the continent.

It is the year where an excuse is easily made for the most rude and dishonest of conduct. Politicians are free to lie and twist facts. It is called political talk. Politicians are free to throw punches and blows at others. It is called political violence.
In an election year, every sense of civil wrong and crime is erased from the minds of the security agencies. Persons who boldly walk the streets and destroy properties, harm and maim others are let off the hook; the police and law enforcement authorities brush conducts, which would ordinarily amount to a breach of the peace, aside.

It is the year Members of Parliament, District Chief Executives and the various categories of big men and women come alive the most. They are usually busy moving from one police station to another peddling influence and pleading for the police to release individuals who had committed patent crimes.

All these gimmicks are unnecessary. An election year should be a good year for everyone. There is no need to sacrifice or compromise on anything in the area of security, economics and even personal relationships.

A single leaf on a tree need not fall because of an election. After all it is an election and we are the electorates.