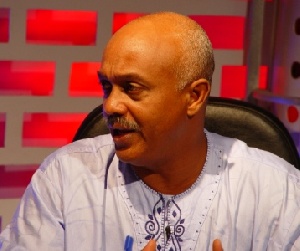 This is the beginning of the most boring month in the year. All we are doing is moving from one corruption scandal to another. Nothing achieved, we talk, discuss, criticize, debate, analyse and get frustrated. Our Government sits with the noise Buddhist fashion, leaves us to ruminate as if we know what we are talking about, leaves it there with us. In spiritual parlance, we "sit with the silence", JDM and his team "sit in jest", waiting for time to play out as we forget the last antic and move to the next.
We just do not have redress mechanisms in Ghana to shift Government backsides into action.

I listened uneasily the other morning when the Deputy Chief at CHRAJ clearly told us CHRAJ is only beholden to itself. Surrounded with so much fraud, it is embarrassing that Gallup should tell us we are now ranking corruption member in the recognized free press world. 3rd in pole position, and that was in early 2012.

The City and Country Waste judgment debt case, which is threatening to make Accra Mayor Vandepuye a Metropolis eunuch, is an unfortunate example of how helpless we are in the face of Ghana Corrupt Inc.

Dear Mr. Komla Dumor, previously of Joyfm, who has found quiet solace in the realm of BBC integrity, attempted, failed and graciously headed out of Ghana after January 2002; was finally told in August 2010 that in a different case; his case against Mr. Eddie Annan, Masai fame and well known NDC financier for colluding with Mr. Charles Asare, just could not hold water even in the face of so much overwhelming evidence.

Komla had brought a case of collusion between Mr. Charles Asare, Head of SSNIT and Eddie Annan, Masai for purchase of buses and other computer items for SSNIT. It wasn't a complicated case, my understanding of the events as they unfolded, the key witness who admitted to the Commission and complainant's representative Dumor, that he received a cut on the deal, which was to be paid to the NDC party, (page 15 of the findings) disappeared conveniently when the case came to court.
Left in the cold, Komla walked away, shoulders high, the Commission stating, "The Commission observes that the Complainant has demonstrated the kind of patriotism that the constitution enjoins every citizen to evince by taking on this complex public interest issue at considerable financial risk. In particular, the courage and dedication of the Complainant's sole witness, Mr. Komla Dumor, in prosecuting the matter is highly commendable. The personal responsibility Mr. Dumor shouldered in investigating, reporting and testifying about the malfeasance forming the substance of this inquiry is truly exemplary and critical in the fight against corruption in Ghana. The Commission, however, cautions prospective complainants to ensure that there is credible foundation for allegations of corruption they make against public officers in order to avoid unjustifiably tarnishing the hard earned image and reputation of such officers". 28th January 2002.

We have not made any progress since. The court awarded Eddie Annan ghc35,000 as damages, he was seeking millions in relief.

Similar threads weave the tapestry of the City Waste Management case. Eddie Annan was involved, Nana Konadu Agyeman Rawlings was involved, Groupe Chagnon International of Canada as well as some free loading money from the Canadian Government, JJ had a hand in it, so did the late Prof. Attah Mills. And Tony Lithur represented Mr. Eddie Annan as he similarly did in the SSNIT case mentioned above and of course, the election petition.

The AMA abrogated the City and Country Waste contract on the grounds that it was too expensive and the Metropolis could not afford to pay so much, when it could pay local contractors far less. So we ended up with Zoom Lion and that has its own cost thread with myriad problems.

But we have ended with a judgment debt against the AMA. I have it on credible record that the docket is gathering dust on the AG's desk, now weighed down by others like GYEEDA and ASONGTABA, which have to mature a bit more before they can be dealt with.
Isn't this our problem? Referring politically charged cases to the AG? Never see the light of day.

We wait to see if this Government will push the AG to get up and take a closer look at the case, or just sit and let the AMA be dispossessed. It would be a first in our history, but the NDC already has a few of these.

So when we proceed to challenge an election petition and fail to win despite all the evidence produced and all the regulatory distortions we find, we accept full blame. Citizen Ghana has still not found a means to push better legislation and programs in our favour.

We have created political monsters and the Essikado Omanhene, Nana Kobina Nketia V fell victim. He was reminded; Executive Secretary of the Free Zones Board Mr. Twum Boafo scolded him for complaining about corruption in Ghana when he had benefited from the NDC Toyota Land Cruiser bribe in the run up to election 2012. And the chickens have come home to roost. Nana could give back the cruiser if he so chooses and free his shackles so he can talk unchained. What is it we say in local parlance? If you play with a puppy it will lick your lips? You can't allow minions like Twum Boafo to insult the might of Sekondi. In the old days, we would have abducted and de-balled him. Now he has Land Cruiser immunity.

How are we going to achieve a less corrupt country when the persons involved all belong to ruling governments? Corrupt and the yet to be corrupted can all see the fat if they can come up with newer schemes to create illegal wealth with a guaranteed in-government sun block cover or out-of-government shade.
Even as we dig into the recent Subah/GRA contract, we should be wary that there are many parts to the award, many wallets are fat from the largesse of contractors and cash finds its way back into political coffers with the next roll of the dice.

We need a major overhaul in our country. We need a Government that will be bold enough to tackle vampire politicians who feed with no tomorrow in sight. The Chief Justice has no answer to all this than to admit to journalists, we need good Ghanaians, innovative Ghanaians more patriotic, better vision and decent. Am I going to take this up? Are you going to take this up? How? It is looking impossible to fix this corruption problem.

Our Religious majority must ask itself, when they reach the pearly gates to Jesus and Allah, will they be admitted left or right? One of the doors is a reflection of your time on this earth, and it is marked for change and a total overhaul of our lives.

The other night in Johannesburg, South Africa's president Jacob Zuma was arguing for toll roads. They were a global standard, he said, and then added: "We can't think like Africans in Africa generally. [Laughter from the audience.] We are in Johannesburg. This is Johannesburg. It is not some national road in Malawi. [Laughter.]" Zuma's party calls itself the African National Congress but his implicit contempt for the rest of the continent signaled a truth: the word "Africa" has lost what meaning it ever had and should be binned.

I took this from the New York Times. It rings too true to me, and Ghana is contributing its deteriorating quota.
We will read the budget in another two weeks. I am not anticipating anything new. The fiscal deficit will be close to what was projected in 2013. Not because Government has achieved it, but the numbers will be manipulated to suit and we will just talk about it. Parliament will debate it and the minority will condemn it. End of the day, the majority will vote the Government's direction and we will run through another year.

Roll on Gallup's 3rd most corrupt country in the free press world, just keep the poverty ideology, but feed the politicians fat and we will see you in 2016.

I actually attended the very badly publicized ECOWAS trade Fair on Saturday. Lots of things to see and many products from the various countries. Malians, Beninois, Togolese, Nigeriens and Ivorians selling me herbal concoctions and magic potions to protect me for life. I was impressed with Ghanaians, many clothing designers, fruit juice makers and cocoa-based products all on display in packed aisles. But as I said earlier, the publicity has been very poor and the pedestrian traffic was slow. Lets hope other days will be better. The Fair ends on 11th November, so go see for yourself.

Most importantly, Jim Iyke says he will marry Nadia Buari. For real? Watch the event unfold. He has broken many hearts in the past, could this be different? And TV Africa's boss Kwaw Ansah was enstooled Akokyemihene with the stool name Nana Yankey Kofo. The honorary title is in recognition of his commitment to Africa and African values

Ghana, Aha a ye de papa. Alius valde week advenio. Another great week to come!