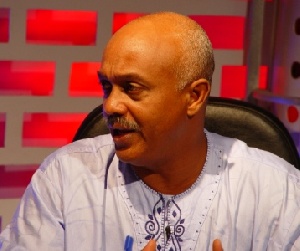 It is over. With a finality that left us numb and confused, Thursday morning, prepped for the 10am start, like many other Ghanaians I had a good breakfast with family, our mindsets tuned to a historical upheaval of one sort or another and we weren't disappointed. We had a historical event, it ended so quickly even the Petition and Respondent lawyers did not understand the verdict. Watching aghast, both sides tried to digest the decision, neither the NDC nor the NPP realizing it was over. So not seeing the NPP roaring a win, the NDC figured they had won and started waving white handkerchiefs. Were Ghanaians disappointed? What happened to us? Accra went mute, Kumasi shut down, Takoradi just closed shop and the NDC party itself could only celebrate at their Headquarters. The streets went silent and traffic flowed in an uneasy stream, reflecting Ghanaians' response to the judgment.
We sat on tenterhooks from December when the NPP filed its petition to annul the results of the 2012 elections, we waited patiently through as much of the legal shenanigans as we could possibly imbibe and we waited as the Supreme Court Judges disrespected us for three hours until they filed in at 1pm for Justice Atuguba to fumble through his opening statement, his attempted apology failing abysmally to convey the sense of turmoil, which we all knew there would be, but in the end, on behalf of his fellow Justices, in less than fifteen minutes, they confused all Ghana and diminished our stature on the world stage. Our singular chance to assert to Africa that dictators and politicians are finally displaced, replaced by law and justice went out the window with fifteen-minute justice deadness. All the admonishing and berating free speech advocates, the tough talk from the Bench in the run up, petered into a whimpered decision. No explanations, our logic will be available in seven days. See the Registrar.

Friends and family have advised that my Critical News if unfettered might see me up for contempt and possibly a stint in jail. Maybe it will be a good thing because now that we will not be taking any more sensitive cases to the Supreme Court, we might as well all be jailed for speaking openly on legal issues. What we have done is erode the little confidence we had in justice.

Now the rumor mills are amok with much conspiracy theory and it is difficult not to listen. Before the hearing started, Justice Atuguba was an unlikely selection; his proximity to the President's office through his relative was questioned. Now the rumors are rife. Baffoe Bonnie has been tagged as a swing vote and the decider in the verdict. I will not repeat the detail here except to say I have heard many such rumors that never turned out true.

Christians all over the country prayed and fasted for their God to bless the Judges with wisdom, guide them to the right decision and deliver a judgment that would make Ghana proud. Now that the verdict is given, Otabil's heart should be lighter and Action Faith Ministry has Ghana as their winner. There has been no violence, no fighting and no call to war speeches from the NPP side. President Mahama has given his address to the Nation, and called for joint effort to work together. Parliament heard his call and they have decided to work closer to solve all our problems.

Is that what we want? Let me speak for myself, because I see no purpose in a singular Parliament with singular views perpetuating singular agendas. Our political class is the most corrupt in our society and grouping for a common corruption purpose will not resolve the issues. I would like a combative opposition, challenging and fighting the governing party at all corners. Their Parliamentary minority capacity will not sway much, but we the people will hear them and recognize a next government in their ideas. That is what an opposition does; it fights for a day in the quadrennial future.
But now the NDC is going to run this Country for another three years, lets state some wants and needs.

There can be no more excuses for dumsor-dumsor. Water deprivation should cease, and that includes Adentan and Madina residents. Petrol prices should stay affordable but not subsidized, utility tariffs must be regulated properly. Trash collection has to be consistent and must improve. We want corruption eliminated totally, decentralization is a must, urban drift has to be halted, and education issues have to be clearly resolved and made free to all. We want better and more prudent financial management, we don't need any more excuses for poor infrastructure, and political cronyism must come to an end. Health matters must be managed better and statutory funds must be paid on time so contractors and suppliers to government can also be paid on time.

Strike action must be handled delicately and labor unrest preempted in all areas. Poverty safety nets must be delivered on a value added basis and once and for all we have to eliminate some phraseology from our politics.

"Private sector as the engine of growth" has lost its meaning in Ghana. "Facing challenges" is a cop out for insurmountable problems. "Technical challenges" as a euphemism for inefficiency must go away and "instructions from above" is now no longer acceptable as an excuse to abuse our rights. "To be circumspect in our reportage" is passé and should go away.

Invoking Jesus' name as the answer to all our problems while not helping ourselves to get up and go to work should be out. Not starting programs on time and projects where Government counterpart funds are never found is unacceptable. Project offices that never get set up on time so we can execute donor supported projects must cease. Unrealistic, impossible targets, lying to the electorate and election year profligacy must end.
Full transparency should now be the order of the day and laws that ensure our democracy must be given full attention and enacted without delay.

Interest rates MUST come down and access to credit, tax legislation that can broaden the net to the informal sector must be found. Threats on free speech must stop and police criminality and obnoxious legal tools must be taken away from the security agencies in order that we discontinue the unnecessary use of force.

We must stop relying on foreign donors and move away from multilateral support from the World Bank and IMF. Domestic borrowing needs to be controlled and better support for unemployed youth (NOT GYEEDA type) must be crafted.

I am not saying anything new, Government and politicians are fully aware of all these problems. They must file their assets if they wish to stay in politics, political parties should audit and file their accounts and we must have public disclosure of expenditure as per the law of the land.

Since we can't rely on the law courts to deliver adequate justice, we have to up and improve governance in order that we do not need to resort to the courts. I have sued someone in court for over a year and it is still not going anywhere. And this is the Fast Track Court.
Government finally released its version of the GYEEDA report, together with a guide to action. There are copies on many media websites if you have not seen it yet, so please help yourself. For now, it is the only way we will get to do things. We must fight through the media, it has been the singular pillar of strength since we hoodwinked Rawlings into withdrawing the Newspaper Licensing Law and Tarzan Wereko Brobbey broke the back of the Radio Frequency restrictions for broadcast.

What happened to us? To say I am disappointed in the verdict will be a totally untrue statement. I am not even crestfallen. I am heart broken. My interpretation, the Bench blessed the glaring gaps in the way the election was conducted by the Electoral Commission. That they could not even accept the concept of over-voting and rule on that alone, that they have indirectly endorsed that we can go ahead with voting without a proper biometric voting system because what we heard and saw from the EC is acceptable and that we can have duplicate serial numbering and still say this is good enough, challenges my sense of proper regulation. This case was not really about law, it was about proper procedure, doing the right thing and embedding confidence in our voting procedure. We have been through too many elections where results threaten to destabilize our society. We could have fixed this once and for all. Arrest me for contempt if having too much faith in the judgment system is contemptuous, I am traumatized, maybe a skeptic for life.

So we have to beat Zambia in the World Cup qualifier this coming weekend. Michael Essien and Dede Ayew are back, we have Asamoah Gyan still, and a good crop of players in all positions. If our defense holds up we can do great things. Maybe restore some dignity to this country through another door.

Ghana, Aha a ye de papa. Alius valde week advenio. Another great week to come!