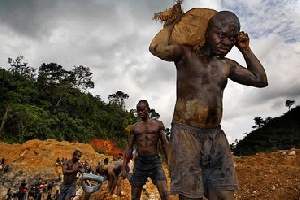 By Yeboah Stephen
The interaction between artisanal (small scale) mining and agriculture in Africa still needs to be carefully considered by policy makers to ensure that people's livelihoods and countries' export revenues aren't threatened.

It's also important that the relationship between the two sectors is optimised to mutual benefit.

Mining occurs in the same geographic areas as agriculture. It competes for similar inputs, like land, water and labour. This means there is a significant risk that agriculture will be adversely affected by mining. Both are vital to the survival of most African economies. They both contribute to export revenues and employ a large number of people.

But research conducted in Ghana, sub-Saharan Africa's second largest gold producer and the world's second largest cocoa producer, reveals some troubling imbalances between the two sectors.

Most of the farmers interviewed preferred 'crops' to 'carats'. This is because farming is more sustainable in the longer term. In addition, farming is, for many, the economic activity they have lived with the longest. But mining also brings in additional revenue that can greatly help farmers improve their outputs. There is nevertheless inherent tension between the two activities.

There is therefore an urgent need for governments and policy makers to take a critical look into the mining–agriculture relationship. The research provides insights about the interaction between artisanal mining and agriculture in the context of social livelihoods in Africa.

Gold meets cocoa in Ghana
For the past two decades, gold mining and agriculture have contributed consistently to economic growth and development, and sustainable livelihoods in Ghana.

Gold contributes about 90% to the minerals and mining sector. In 2015 this amounted to GH? 1.35 billion (about US$3.4 million) in exports and taxes. Artisanal and small scale mining contributed an estimated 34% of Ghana's gold production in 2014. Agriculture employs about 45% of the country's active labour force. In rural communities more than 70% of people are involved with and depend on agriculture.

Farming is the traditional source of livelihood in Ghana. But artisanal mining has emerging as a lucrative activity. This is because of its remarkable income-generating potential.

Although mining and agriculture can co-exist, generating economic and social benefits, there are some inherent tensions between the two as they compete for resources.

On the other hand, mining generates money that supplements the income of farmers who become small artisanal miners. This allows them to improve their farms' productivity through buying inputs like fertilisers, and hiring labour.

To mine or to farm?

Livelihood diversification is the norm in sub-Saharan Africa. The fact that farmers branch out into non-farm activities to secure a better livelihood is well recorded.
In Amansie Central District, one of the mining districts in the Ashanti region of Ghana, farmers diversify into artisanal and small-scale mining to reduce the risks inherent in cocoa farming and food crop production. Risks include erratic rainfall patterns, lack of access to land, farm inputs and credits, poor and inaccessible roads, and lower producer prices for cocoa.

The central difference between farming and artisanal mining is how much money can be made. Take the case of Samuel Ofori Duodu, a Ghanaian cocoa farmer and miner. Duodu indicated that he earns about $300 a month from artisanal mining. This compares to an acre of cocoa farm that generates about $170 per harvest within a year.

Duodu could potentially earn $3,600 a year from mining compared to roughly $340 he gets from cocoa. But revenues from mining are not regular. They also depend on several factors including the price of gold on the international market and the ability to explore new mining concessions which demand sophisticated machines. Nonetheless, it is obvious that artisanal mining is more profitable than farming.

Income from mining enables farmers to hire more labourers for their cocoa farms, buy expensive fertilisers and educate their children.

Competition for resources

But the co-existence of mining and farming is not a simple win-win situation.

For example, the costs can outweigh the benefits mining provides to communities. There is acute competition over land and water resources. Farmers lose their land and farms to mostly informal and illegal mining activities. There is perhaps no single industry in Ghana that has precipitated more disputes over land-use than mining.
In communities I visited during fieldwork in 2014 and 2015, there were contestations about loss and destruction of land and farms, and pollution of water bodies. Forms of land ownership in Ghana contribute to the prevalence of land disputes. Customary land ownership and tenure exist alongside state title tenure.

The country's constitution recognises both. But customary land ownership is informal, based on simple acknowledgement without any documentary proof.

Artisanal miners capitalise on this informal land ownership structure to seize lands often with little or no compensation to farmers. The majority – 90% – of farmers sampled in the district indicated that compensation is not adequate to mitigate the cost of the permanent loss of lands and destruction of cocoa farms.

There are multiple cases where several acres of cocoa farms have been destroyed. These miners tend to seek the consent of traditional authorities with no regard for farmers who have the right to use the land. In some instances, traditional authorities are directly and indirectly involved in illegal artisanal and small-scale mining.

What next?

Despite the importance of mining and agriculture to economies such as Ghana's, the dynamics of their interaction have seldom received attention. Such dynamics are sometimes underestimated by scholars, governments, corporate entities and donors. This has come with implications.

The Ghana Cocoa Board, the country's parastatal body mandated to regulating the cocoa industry, has acknowledged the rising negative impact of mining on cocoa production.
There is a need for greater understanding of the mining–agriculture nexus to ensure that the two interact in a positive and balanced way. A balanced coexistence would produce social and economic development without disrupting the livelihoods of rural people whose lives are tied to farming.

Stephen Yeboah is a PhD researcher at the Swiss Graduate School of Public Administration, University of Lausanne, Switzerland.

This research study was first published by the United Nations Research Institute for Social Development (UNRISD). The edited version was re-published in the Conversation.