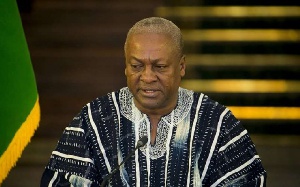 By Daniel Danquah Damptey
The only legacy left behind by outgoing fumbling and wobbling Mahama administration is looting. In short, all we can associate this criminally-minded and rudderless administration with are dashed hopes and aspirations, betrayal of people's trust, mal-administration, reckless ethnic utterances, nepotism and a life of ostentation.

These rapacious band of looters will go down into our history books as the most conscienceless and insensitive government ever to bestride the corridors of power in the country. They thought, erroneously though, that the time had come for them to plunder and pillage the national assets and resources to their barest minimum. But one thing they forgot, which I kept reminding them was that a day of reckoning awaited them and that it would come sooner than they expected.

Today, the day of reckoning is here but the question is: "What account are they going to give"?

Let me not bore you with their opulence life style. It is crystal clear for all to see. See the thick neck of Okudzeto Ablakwa and the disgorging stomach of Ernest Debra! What about the "Lord is my barber" shining head of Barton Oduro? When one takes a critical look at the new dental formulae of Peter Otukunor, one cannot help but conclude that indeed, these latter day saints and Greedy Bastards have indeed bettered their lot by milking the nation dry.

Today, I want to take you back to the archives to listen to some of the arrogant and infamous utterances of these nation wreckers who, before entering "Government" were mere paupers like you and I but today are strikingly rich. Enjoy yourself as we go down memory lane to refresh your minds about the apostasy and sacrilege that have been committed by these yester years forgotten pseudo politicians.

Dela Edem Cofie: "Ato Ahwoi is a clear danger to our nation's security. He schemes, lies and manipulates! I detest Ato Ahwoi because he's wrecking this country and he is also a snake in the grass. My contempt for him is absolute.

Michael Teye Nyaunu:"Disrespectful small boy who is reaping where he didn't sow looking right into the faces of his mothers and fathers. Today small boys like Ablakwa and the rest who have become Ministers; Go and see the houses they are putting up. And they sit here talking as if they have done something.

"When we were fighting and going to the nooks and crannies for votes, they were in CJA or whatever they call it, and they sit at the FM Stations in Accra in their air conditioned FM Stations and talked, and after that they were rewarded as if they had done hard work than those who went to the villages to bring the votes on before we won.

"When men are talking, boys must learn to listen and not be talking".

Samuel Okudzeto Ablakwa: "It's amazing people continue to think that some of us will be uncomfortable when the NDC loses political power. But some of them forget that some of us are into business. I will be able to survive for 12 years with the NDC in opposition. (Showing his business documents to the TV camera – Metro TV News).
John Akologu Tia (Former Information Minister) : "Anybody who couldn't 'feel money in his/her pocket' or experience the ruling NDC "Better Ghana Agenda" was either sleeping or pretending to be sleeping".

Johnson Asiedu Nketia: " The current problems associated with the ongoing biometric registration proves that the nation is not ready to use the biometric verification system and that any attempt to use biometric verification for the upcoming general elections could lead to a civil war". (30th March, 2012).

Ama Benyiwa Doe: (Former Central Region Minister): "Allotey Jacobs wants more contracts to be given to him, but I have to spread it across to all members of the party".

Tony Aidoo: "Minority NPP members are nation wreckers, for only nation wreckers will oppose a deal by government to construct decent accommodation for security forces in the country".

Ras Mubarak: "When word got to us that The Castle had arrived, most of the delegates abandoned the meal of rice and chicken and rushed out of the hall to be partakers of the good news from the seat of power".

Joojo Bruce-Quansah: "There are a lot of people in this country who are afraid of the way politic is done. I am not afraid to mention the name of the Doctor, but the Doctor is scared. He did not know that treating me would take this dimension. I have told the Police that I will take them to the Doctor for them to interview him, on condition that it would not be made public." (Joojo Bruce Quansah was the editor of Ghana Palaver who was found guilty by the court for libel and was ordered to pay an amount of 400 million Cedis to George Kufuor.

He concocted a story that he had been beaten to a state of unconsciousness; He killed a chicken and smeared his body with the blood of the chicken, went to his sister in law house and asked her to deliver a message to Prof. Kwamena Ahwoi to report to the Police that he had been attacked.

Ras Mubarak: "We should find out whether it was a priority to sponsor over 1000 people who are made up of largely party supporters, in a weak attempt to assuage the mass of the NDC which is not impressed so far about what is happening.

"The millions of people who voted for NDC in order for Professor Mills to be President didn't do so because they wanted to go to South Africa to see the World Cup. They did so because they wanted better lives – long lasting tangible benefits".

Okudzeto Ablakwa called on NDC to disclose the identities of those "philanthropists" who sponsored hundreds of soccer fans to South Africa.
Richard Quarshiga: "I find it a very irrational line of thinking of those that are behind this call for accountability. These are enemies of progress. Since it was not the tax payers' money being used, but by a philanthropist to sponsor the supporters, accountability must not be stretched beyond its lawful bounds".

Stan Dogbe's solution to Gas Shortage - Chemicals should be added to the gas so that drivers who use the commodity will have their engines of their cars damaged.

Alhaji Bature: "When it comes to violence, the NDC will always beat the NPP."

Koku Anyidoho: "I hate to see Kufuor's face".

Koku Anyidoho: "Let Nana dare"!

Nii Lante Vanderpuye: "A very powerful Chief from the Western Region greeted Professior Mills and he developed some blisters on his palms. The ring was made to counteract the potency of the juju".

Felix Ofosu Kwakye: "NPP is behaving as if Wayome's GHC51 million is the panacea to all our economic problems".

Felix Ofosu Kwakye: "The Security Agencies were charitable. In fact, in other jurisdiction, the Three South Africans wouldn't be alive to tell their story".

Kwaku Boahene (Deputy NDC Communicator Director) is on record as saying that the deported South African ex-police officers should have been killed rather than deported. He argued that lethal injection should have been used to kill them.

Samuel Ofosu Ampofo: "I will be the saddest person if we are not given another four years to continue from where we have ended now. The change has come but the Real Change is coming in the next four years". (Myjoyonline 1st April, 2012).
Yaw Boateng Gyan (Former National Organizer of NDC): "If Carl Wilson had not been sacked, I would have organized boys to take over the NDC Headquarters".

Yaw Boateng Gyan said the 4 x 4 vehicle he was using was bought for him in appreciation of hard work and not because of any ill motive.

Kwabena Agyei (Former Chair person of the NDC) said that rumors of Mills death (before he died officially) emanated from a top member at the Presidency who stood to gain in the event of the death of the President.

Rev. Amo Darko (Chaplain – The Castle): "Although they knew his delibetating health condition, they arranged for him to make several public appearances to prove to Ghanaians that the President was hale and hearty". (www.Peacefmonline.com. 28th July, 2012)

Seth Ofori (Press Secretary to late President Mills): "Four days before the demise of the President, people were lobbying to be Vice President".

Ghana Palaver: "Rawlings had visited President Mills to beg for money to treat his Parkinson disease". (Friday, 27th July, 2912).

Unpresidential utterances by outgoing president, John Dramani Mahama:

"Kyebi is the headquarters of galamsey"

"Ashantes are ungrateful. Even if you construct the streets of Kumasi with gold, Ashantes will still not appreciate you".

"If NPP wants the votes of Northerners, they should put a Northerner as its Presidential
candidate". He appealed to all Northerners to vote for him because he is a Northerner

President Mahama described minority criticism of his policy as "baloney".

Asuma Banda: "Truth is that he (Nana) can never be President. You see to be a President, u must have certain structure, intelligence. You people take certificate in University to be intelligence".

Asiedu Nketiah: "Nana Addo is too old to be President. He should join the Council of Elders to give advice to the young President

My esteemed readers, you have just read some of the most dangerous ethnic, reckless and arrogant utterances by those into whose hands, we, ordinary masses entrusted our collective destiny. Do you sincerely feel Ali Baba and his Forty Thieves deserve any reprieve?

No, I do not think so! They deserve to go the way others before them have gone. They were like us at the beginning, but they grew wings and thought they were created to superintend their will and caprices over the rest of us. They behaved like aliens from outer space and treated us as if we were lepers. They took from us what rightly belonged to us and told us not to complain. They whipped us with scorpions and ordered us not to cry. Like the native South Africans, we became tenants on our own lands bequeathed to us by our ancestors. Now, a Daniel in the person of Nana Addo Dankwa Akufo Addo has come to judgment.

Indeed, the cacophonous, venomous and intimidation voices from the stables of those Evil Dwarfs, the Greedy Bastards and the Babies with Sharp Teeth will no longer be our daily meals. Indeed, we are free and free for ever.

Daniel Danquah Damptey (damptey_daniel@yahoo.com) (Self- Appointed Special Aide to Our Decisive President- Elect, Nana Addo Dankwa Akufo Addo)