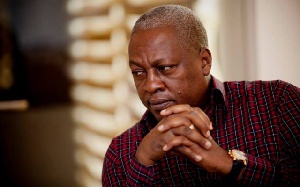 By Badu, K
Dad is extremely stubborn. It is so difficult to proselytise him to cross the carpet. It makes me livid, but I have to contain my emotional intelligence and show deference to my Dad for fear of being upbraided for upsetting the crude majoritarian Africa dictate of respect.

In the United Kingdom where I have lived, schooled and travailed in the better part of my adult life, the bromidic word is reasoning, unlike my country of origin where respect is the norm.

So in Ghana you have to be careful when dealing with an older person, else you would be adjudged disrespectful. It was for this reason that I felt so unease in persuading my Dad to demit his unbridled devoted attachment to the NDC Party.

Obviously it is that trite and dowdy word respect that has given the grown up people in Africa the licence to misbehave over the years. For, if that was not the case, how come our leaders continue to create, loot and share our resources and often go scot free?

Of course, you would be labelled disrespectful for criticising for instance; a president who persistently accepts bribes and dips his hands into the national coffers. For God sake, how could it be contumelious for calling a spade a spade?
My father who is a devoted NDC member has been moaning ceaselessly of late about the throes of Ghana's economic collapse. Meanwhile, he won't budge to my counselling. He doesn't want to detach from his so-called loyalty.

Nevertheless, I contained my composure and tried to explain the current state of affairs to my inflexible father.

I told my father that the economy is declining precipitously because President Mahama and his appointees are not seeing their arses from their elbows. They are not pulling their weights. They have failed to continue the good works done by President Kufuor.

Dad, am sorry, that is called incompetence, but if you would like me to use more euphemistic word, then let me say they are less qualified or do not have the requisite skills to steer the country to the right direction.

Dad, President Kufuor moved Ghana from the Highly Indebted Poor Country (HIPC) status to a Lower Middle Income (LMI) status when he took over from former President Rawlings in 2001.
Dad, during the year 2001, "debt as a percentage of the GDP was not only unsustainably high and crippling but also deprived Ghanaians from money which could have been used for needed developmental and social projects".

Dad, the benefits of the HIPC were "unprecedented during the Kufuor's regime from (2001-2008). Microeconomic indicators begun to stabilize and Ghana's debt stock was significantly reduced by about $4 billion within that period".

"There were Rapid infrastructural developments as well as social and policy reforms". "Ghana was then elevated from a HIPC economy to a middle income economy under the Kufuor administration" (Mutaka Alolo, 2012).

"By the end of 2008, Ghana's economy had been quadrupled to US$ 16 billion, a period of eight years under the NPP". "The average GDP growth of the NDC from 1993-2000 was 3.8% while that of the NPP from 2001-2008 was5.2% with economic growth reaching 6.3% in 2007" (Daily Guide, 2016).

Dad, according to Dr Bawumiah, in the last seven years alone under this NDC government, Ghana's total debt has ballooned from GH¢9.5 billion to a projected GH¢99 billion by the end of 2015.
"What is clear is that, 90% (i.e. GHC89.5 billion) of Ghana's total debt since independence has been accumulated under this NDC government from 2009-2015 i.e. the last seven years" (cityfmonline.com).

Moreover, the high inflation rate remain elevated at 18.5% in February 2016 compared to 17.7% in February 2015, even after the Central Bank's 500 bps policy rate hikes. Ghana's economic growth slowed for the fourth consecutive year to an estimated 3.4% in 2015 from 4% in 2014 as energy rationing, high inflation, and ongoing fiscal consolidation weighed on economic activity (World Bank, 2016).

Dad, everything aside, are you happy with the existential 'dumsor'?

What about the soaring inflation, the currency depreciation and above all the high costs of living?

Dad, your business has collapsed, as a result of the mismanagement of the economy by President Mahama and his non-performing NDC appointees, so what more do you want to see before departing from your unbridled devoted attachment?
"Kwaku, you've really put me in an awkward position". "Well, I would have to reconsider my position and probably vote for a positive change", my Dad retorted.

In fact, my Dad made my day for accepting to undertake a carefully considered deliberation and vote for a leader who has the vision and the commitment to steer the country to the right direction.