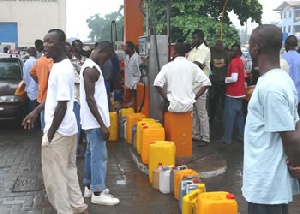 The premix issue has recurred and this time it is about diversions of the product. A report by the National Petroleum Authority (NPA) over the weekend revealed that twelve (12) major diversions of premix fuel occurred this year in January alone.
The NPA's BRV Trading system and Reforms further revealed that although the premix fuel was documented for the Volta Region, it ended up in the Greater Accra Region. THE question we at Today are asking is: why should something destined for a particular area find its way to another location? And as usual, accusing fingers are being pointed at our politicians.

Why politicians will get involved in the selling of premix fuel meant for our poor fishermen is something that beats our imagination. The situation, we understand, has become very frustrating and unbearable for fishermen in the country.

Why must we compound the plight of our already poor fisher-folk by diverting and selling premix fuel to them at higher prices? This is pure wickedness. Pure and simple!
It is in this vein that Today agrees with the President and Chairman of Groupe Nduom (GN), Dr Papa Kwesi Nduom, who has called on government to make it possible for our fisher-folk to buy premix directly at fuel stations.

In fact we believe such a measure, and like Dr Nduom argued, would help curtail diversions of premix fuel and its associated high prices. It is also important that government takes the issue of premix fuel seriously and put in place measures to safeguard the interest of our fishermen.

Our fisher-folk must not be left at the mercy of some of these greedy politicians whose stock-in-trade is to milk the country dry at the least opportunity they get. We therefore, urge the Akufo-Addo administration to tackle head on this canker associated with the sale of premix fuel in this country.