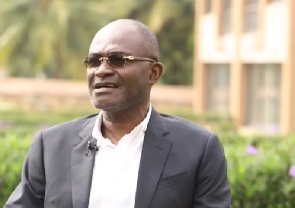 It is quite bamboozling, to say the least, that honourable persons would go to all lengths to discuss a showdown; a showoff of some sort whether nonsensical or bullshit talk, all in the name of remaining relevant in our political dispensation as the biggest most credible political party under the Ghanaian sky. And of course, it is the NPP that is the biggest, make no mistake about that!
However, recently, after the uncouth manner of the campaign brought on by the inefficient and incompetent team of Alan Kyeremanten led by an awful spokesperson and, more so, a bunch of rascals that obliterated the relevance of Alan in our body politics, we still see traits of such vile rhetoric coming from other camps.

On this note, let me pause and salute Dr. Akoto Afriyie for the clean campaign thus far done and encourage him to continue doing the same until the deed is done.

Although I disagree with him on a lot of issues, I still doff my hat for the decorum associated with his camp! His last statement, "If I do not win, I will support whoever does in the November 4, 2023, primaries," needs to be adopted as a slogan by all, especially the vile ones.

Let me state that I love Kennedy Agyapong for his boldness and no-nonsense stance on issues albeit some are overly farfetched; "aswerigad", in his voice! But, recently, he has misfired, and woefully inaptly, too, like a diehard patron of a pito bar, which has blotched his pages with indelible crassness that will be difficult to wipe clean except with an admission of fault. You see, he has inflicted on himself deep political wounds that have suppurated causing

his pain, and I do not understand why he would want to cause himself more that will fester with such excess in insults, infantile insinuations, and loose talk especially the recent spate of attacks on Dr. Mahamudu Bawumia to the effect that Soale's killers are known to him. That was the straw that broke the camel's back, hence this article.
Yes, of course, I am connected to the signal, if you know what I mean. If you don't, let me make it clear and emphatic that I am for Dr. Bawumia. I swore my allegiance to him in 2011 as the next after my unfettered allegiance and support to the best President ever, His Excellency Nana Addo Dankwa Akufo-Addo. If you have access to Bawumia, you can ask him!

However, that did not mean that I forfeited the right to express my opinion where and when necessary, but the unruly situation created by dirty slanging and the uncouth demeanour of aspirants for the flagbearership of our party has forced me out of my "one corner" to tell it as it is right in "your face" if you like.

Kennedy has been fingered in the death of Soale, which I do not believe at all. I detest such accusations because Kennedy is not a murderer! But for the fact that ongoing investigations and accusations point his way, he should be the last person to shift the goalpost by offloading blame to one of the few cleanest gentlemen Ghana has ever known, Dr. Mahamudu Bawumia!

Just making such unprovoked announcements has strengthened my belief in the signs that are splashed across our sky foretelling the ascent of Dr. Bawumia to the presidency of Ghana in 2025, thus, creating history in many forms! Kennedy should have learnt a lesson or two after losing a lawsuit to Kweku Baaku, having erred in his bravado after which he went whimpering and begging!

Since Dr. Bawumia arrived on the political scene of our country, I am yet to hear him insult any opponent. He has not even been vile towards the NDC and has left no stone unturned in their quest to destroy his image, albeit fruitlessly, even though he has the right after they attempted to assassinate him in 2012 along the Wa-Bole road. He has not been fazed at all by the rubbish that is being constantly hurled at him, and as such would not be intimidated by
the evil impulses of dear Kennedy! So, what is it that the offenders are afraid of?

What is it that is giving Kennedy the shivers, pushing him to compromise his credibility by making mockery, lies, and insults an integral part of his campaign? Kennedy Agyapong must make haste slowly anytime his switch clicks because sooner than later, it would take one unholy utterance to destroy all that he has worked for since he became, ermm, an "abrante3"! Let me use this opportunity to dedicate a song for his listening pleasure, "Sika yɛ abranteɛ" by Super Yaw Ofori. Ampa, sa na sika y3 abranteɛ, ɛmom ɛntumi tɔ nyansa, sɛbi!"

Monsieur le Parlementaire, Kennedy, ça va?