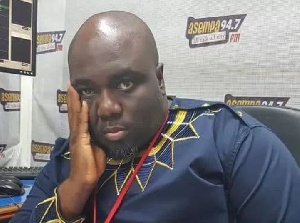 You saw May 9th before it happened but could do nothing to avert it, you saw the circle disaster but could do nothing about it. The Atomic Gas explosion, the death of MPs, accidents and now that of our brother KABA: you saw them all but couldn't do a thing about it.
Why are you telling us now that it has happened? So that we know how powerful you are? Did you come out so that we run to your church for miracles? Why should we take you serious if you see every evil but prevent none? Why are you so quick to take credit for the evil that happen?

How can you be a prophet of a Good God but always be the giver of evil news in This Testament when we are by virtue of Christ's Death and Resurrection the children of God?

The prophets of the Bible, the prophets of the pasts were people who spoke the mind of God and brought God's message to restore nations and people back to God's perfect plan.

They spoke God's mind concerning the people to bring them to a place of repentance and build their faith in God. The work of every single prophet of the Bible sort to keep man in the perfect will of God.

Today, we have prophets who are only relevant when evil happens, Prophets who are quick to take credit for every misfortune and use that as the key to filling their churches.
I knew it was going to happen, I knew the sadden demise of KABA had opened the door for you to be heard and I have not been disappointed.

As a friend will say: "this is the final straw that broke my camel's back"

You saw it, couldn't pray against it so what do you want from us now?

How can you prophesy on a community radio that doesn't get to Accra about a person who lives in Accra, and still expect the person to act on your so called revelation? I suspect that some of these people record themselves after events happen because strangely, we almost always get to hear the audio or see video after there's a disaster.

For the record, sorcerers, soothsayers, Malams see, in fact, even ordinary people who have no prophetic gifts sometimes do see events before they unfold.
This is why I find every prophet who is quick to take credit for seeing an event after its manifestation as an opportunist and a person who cares more about fame than shaping this nation with the Word of God.

All the noisy prophets who behave as though they are our God should ask themselves if they are indeed making meaningful contribution to the Kingdom of God and the nation because as far as I am concerned, their behaviour is a clear indication that they care about fame than serving God.

God's gift of prophesy is not supposed to be a tool for making people live in fear of tomorrow but to give them hope that even in the worse possible situation, God is willing and able to save them, This why the Word of God says every prophesy should be tested with the Word of God which is the mind of God. The Bible says so because Prophesy in this dispensation is revelation of deeper truth of God and not predictions and therefore: the revelation, however deep must conform to His Word.

Mr Prophet, how can we confirm some of the things you claim to see from the Bible?

Mind you, some of the people you prophesied to in January that they'd get married before 2017 ends are still waiting for their first date request since you gave them the assurance. The guy you prophesied to that he'd get his 5 years American Visa before the year ends is still chasing Birth and Death Registry for their birth certificates: focus on them and leave us alone.
KABA died because God allowed it: allow us celebrate his short but useful stay with us: don't bring us to a place of what ifs because God Himself wants us to be thankful for having him and move on.

Me, I believe in God's wonderful gifts of prophesy, I know there are many genuine prophets in this country. However, the loudest, praise seekers and fortune tellers are subjecting this wonder gift of God to ridicule.

If all that your gift can do is to see and say after the event has occurred, then you are adding zero to the body of Christ.

Please change your style and be relevant to the Church and the Nation: we serve a loving God who wants the very best for us, if all you see is evil, please you need prayers yourself: God is the source of the best news, He can't be the one feeding you with all that negativity without solution.

Yours angry,
CC: All the prophets who do the above