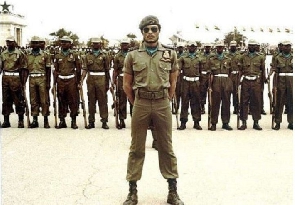 Dear former President Rawlings
I bring you greetings from Wa, the capital of the Upper West Region (UWR).

I woke up this morning the 15th day of January 2020 feeling excited as I felt on the same date in 1983 when UWR was just a day old. Every Upper Westerner felt excited that we finally gained a substantive position to think and plan for our own future. I am happy to write to you in the open believing it will get to you through social media which did not exist in 1983.

I began my secondary education in then Kanton Secondary School at the birth of the Region. You inspired many of us into believing in Ghana through the principles of the revolution; Justice, Probity and Accountability. You made us believe so much in these principles that many of us got them into our DNA. Today integrity is, unfortunately, an endangered value in Ghana.

Mr President, your choice of Joseph Yieleh Chireh as the first Regional Secretary could not have been more appropriate as he jelled so much with you to give the new region a solid foundation.

Your legacy for the UWR that no one can ever contest include; a. the extension of the national grid to the Region. b. the extension of telephone facility to the new Region and; c.Building a bridge over the Black Volta at Bamboi in the Savannah Region.
These may look basic today but are the real pillars upon which UWR stands. Courtesy of one of your mentees, President John Mahama, our excitement over boarding STC buses to Accra has reduced considerably as the variety now include even air transport. It will be good for you to see a John Mahama constructed the airport, Regional Hospital as well as a life-changing water project for the city of Wa.

The effort of President Kuffuor, your successor on the tarring of the Bole-Bamboi road demonstrates that governance is indeed a continuum. As you advance in age gracefully, it wouldn't be out of place if you refresh your memory with a visit to the region that owes you so much.

I love writing but have learned to always be brief when writing to elders above 70. Your leadership style motivated many of us to dream big with a spirit to serve in humility. You ruled for 19 years and should have to be the richest but for your selflessness.

Upper Westerners irrespective of the fact that we need more development from the centre shall continue to have your name engraved in our hearts with gratitude. May the good Lord continue to grant you grace, good health and long life.

Kind regards
Supt Peter Lanchene Toobu (Rtd)

NDC Parliamentary Candidate

Wa West Constituency