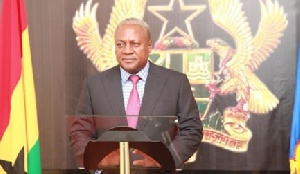 Posterity will judge you, oh Ghanaian electorates. You will soon be offered the opportunity on November 7, 2016 to decide on the future leaders of our dear country Ghana.
The decision you take on that day to vote for more principled men and women of integrity to be our leaders, much the better for the future prosperity of Ghana.

It is obvious that President Mahama and his current NDC party and government have failed Ghana economically, socially, security-wise and in every facet of democratic governance. Our youths are jobless in their alarming huge numbers. Armed robbery is robbing Ghana of some innocent lives and depriving many people of their safety and security while the government looks on completely ineffective and nonchalant like a nutter with his mouth agape and dribbling.

Look at how the majority of Ghanaian masses are suffering under the most corrupt, incompetent and clueless President Ghana has ever had. Are you able to pay your unnecessarily hiked utility bills? Are you able to afford your entire cost of living with dignity as I do not want to go into the details of things? I am afraid not.

Why would you then even dream of, let alone, vote for, such a President and government to collapse your life and that of the future generation? You are invited to vote massively against President Mahama and NDC by voting in Nana Akufo Addo and the NPP. Let us try Nana Akufo Addo, the nationally-acclaimed incorruptible person of whom no NDC member has raised a finger in challenge of his proclaimed integrity but his height and other such silly physical appearance accusations.

Please, Ghanaian electorates do not be deceived by the likes of Dr Charles Wereko-Brobbey who for his selfish ends and probably already legally or illegally acquired wealth would want President Mahama and NDC win election 2016 to continue to worsen your plight. That is their wish reading from their publications, speeches and actions and body language.
Who in Ghana does not know that the Chairlady of the Electoral Commission, Mrs Charlotte Osei, by her actions is colluding with the NDC to help them win election 2016 on a silver platter? It is only the NDC members and some saboteurs within the NPP of whom Dr Charles Wereko-Brobbey is very conspicuous that are not aware of the schemes by Charlotte Osei.

He lays bare his evil intentions in his publication on Modernghana.com where he was mocking the NPP. His said feature article was titled, "Wereko-Brobby: Now that the comedies for Election 2016 are over… [Article]". The underlying web link takes any interested public reader to his malicious article.

http://www.modernghana.com/news/705241/wereko-brobby-now-that-the-comedies-for-election-2016-are-o.html

Please fellow Ghanaians, do not allow the one-off goodies and a few Cedi wads that the NDC and President Mahama have stolen from the public coffers to grease your palms fool you into voting to re-elect them in the upcoming 2016 general elections.

President Mahama insults Ghanaians by saying we have a short memory hence he can embezzle public funds, carry out dodgy projects at highly bloated costs to accumulate huge debt for you and I, and the future generations, to pay.
Out of the abundance of his stolen money or illegally acquired wealth, he comes to give you a peanut and then gets your life-changing vote for almost free to continue to aggravate your conditions of living. If such is not an act of depiction of short memory and folly on the part of whoever sells his vote as just explained, then I do not know what else is.

Are you ready to go through four more years of NDC economic hardships full of thievery, corruption, armed robbery, practice of selective justice and utter public insolence, and threats to people's lives?

If you are fed up with the untold hardships brought to bear upon you by the style of governance by the NDC, then I welcome you with open arms to overwhelmingly vote for Nana Akufo Addo and the NPP come election 2016. Let us prove President Mahama and his accomplices wrong. Let us make it known to them that they cannot always take us for fools. Let us show them that if we were fools of yesteryear, we have now wised up, thus giving them the boot from office.