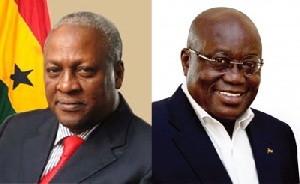 Written by:
Abdul Latif Alhassan,

becash07@gmail.com/becash8559@yahoo.com

0247011871/0203171028.

The political bells are ringing, politicians are busy, the political tension is mounting on Ghana and civilians are worried. Count down, is forty plus days for Ghana to decide. All we could hear from the flag bearers of the two main political parties is "vote for me, my party has done better than their party".

Accusing themselves of vote buying, rigging election, violent tags, economic mismanagement, lies and so on. Day in day out, it has always been accusations and counter accusations between NPP (Nana Addo Dankwah Akuffo Addo and Dr. Bawumia) and NDC (H.E.John Maham and Kwasi Amissah Arther).
They always fight over whose policies and campaign message is better and has solutions to Ghana's problems. As the elders say, the baby goat (kid) always observes its mothers mouth when grazing. Both the NDC and NPP supporters are toned to Nana Addo and John Mahama's methods of campaigning.

Nana Addo and John Mahama seem not be bothered much about the security and safety of Ghana, the very country they are fighting over. As a true Ghanaian will say, Ghana is bigger and above both Nana Addo's NPP and John Mahama's NDC. As an observer who always follows Nana Addo and John MAhama's campaign messages, hardly do they talk about peace and security of this country. What they always sing for their supporters is, vote for our party. Hope your party is going to rule human beings when voted. Hope your party can only govern when there is peace, security and stability after the election.

As the elders say, the eagle teaches the eaglet how to snatch chicken without missing. Both the NPP and NDC campaigners lack the peace element in their campaign messages. The content of their campaign messages is mostly accusations, insults, comparison and name-calling and these are the very factors that precipitate violence and conflicts.

These are the very factors that destroyed Mali, Liberia, Rwanda, Somalia and many more. Do you think Ghana is an exception? Lil Win will say "I don't think far" but I do think far. Ghana is not an exception if authorities do not call Nana Addo's NPP and John Mahama's NDC to always talk to issues and speak peace without blaspheming. Nana Addo and John Mahama in my view should tell us whether they are for peace or the opposite. They should tell us whether they want Ghana in peace or in pieces.

And to you a foot soldier, what I want Nana Addo and John Mahama to tell you is that, "if you die because of NPP/NDC, you die at your own peril. If you lose your body parts (eye, hand, leg, ear, teeth), you lose them at your own risk. If you lose your property because of NDC/NPP, is at your own peril. I think with this kind of messages given by Nana Addo and John Mahama to their foot soldiers/supporters, they would have learnt great lessons and stopped or at least minimized their violent prone acts. But unfortunately, Nana Addo and John Mahama's silence on peace and security is worrying.
And to you a supporter, your political opponent is not your enemy. Politics is a game that must be played very well. John Mahama and Nana Addo are not enemies, just as their running mates are not. NDC and NPP parliamentarians are not enemies. NPP and NDC chairmen are not enemies, so you as a supporter and your opponents are not enemies as well. Take it cool, take it easy.

Have you not seen a well compassionate picture taken by Hon. Murtala of NDC and HON. Kennedy Agyapong of NPP? Have you not seen a model picture taken by chairmen of NDC and NPP at Yendi? Whats else do you need to know that you and your political opponents are not enemies. Come on! Where are my NDC and myNPP guys! Hold a brother from NPP/NDC, take a "selfie" let us see you too.

The notion of consanguinity holds that, everybody is related in one way or the other so, we are one. One Ghana, one people with a common destiny. Nana Addo and John MAhama what are you for? I am for peace.