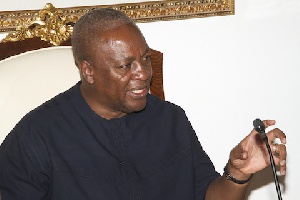 Mother Ghana has written a passionate letter to John Dramani to voice her concerns about the Ford gift issue. Read th moving letter below.
Son, you are not the most intelligent, handsome or oldest of all my children. But your fellow siblings entrusted you with all the resources of the family. Their expectation was simple; manage OUR RESOURCES to make OUR LIVES better.

How well have you done?

I am disappointed to hear that you awarded a contract to a foreigner to build a fence around an acre of land for over $650,000. The award of the contract was on the back of the contractor giving you an American car (Ford) as a gift.

The gift was not known by your siblings until my dear son Manasseh Azure Awuni blew the cover. Most of my other children have been enraged about the issue.

I needed to hear your side of the story before drawing any conclusions. Your responses so far have enraged, annoyed and disappointed me greatly.

Firstly, you have not denied that $650k was used to build a mere fence wall. That's outrageous! How can you allow such a thing to happen given our limited resources? Are you not concerned that some of your siblings sleep on the street and have no food to eat? Is that how I brought you up?
Secondly, you have said that the claim of potential corruption by your siblings is 'baseless'. You are wrong! They have so many reasons ( bases) to impugn your honesty in this matter. How come the contractor had no business from this family until he 'befriended' you?

Thirdly, you have sought to justify your acceptance of the gift by stating that you don't even like American cars. And so what? Why did you accept the gift then. One of your Deputy Ministers has said "you accepted the gift for Ghana". That is ridiculous!! I don't have need for that car.

I don't like it, need it or want it.

So if indeed you also don't like, RETURN the car immediately!!

My son, Kantanka, will make a car for me if I decide to add to the numerous fleet of cars at my disposal.

Finally, my good advice to you is that subject yourself to any inquiries or investigations to ensure that everyone gets to know the truth. I am really concerned with your leadership. Your siblings also have every basis to chastise you because the resources of the family belongs to all of us.
I am very disappointed!!!

May be it's time for one of my other children to assume the leadership responsibility of this family?

Your ever loving Mum!!

Ama Ghana