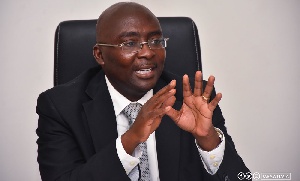 The more he is slandered by politically sponsored actors from the main opposition party, the more his integrity surges.
These were the words that kept resonating in my thoughts as I scanned through recent political happenings in our country. In the midst of these stimulating thoughts, I chanced upon a comment by Prof. Raymond Atuguba on a WhatsApp group (ONE GHANA) platform which provoked me to put these thoughts together in writing. In his words, "the only way to know you have said something useful, truthful, good, etc. in Ghana is when people start insulting you. I use it as a test all the time".

Though Prof. Atuguba is widely viewed to be opinionated, I am however inclined to believe in his submission.

It is trite knowledge that, H.E Alhaji Dr. Mahamud Bawumia with dint of hard work has built for himself a TOWERING INTEGRITY which cannot be annihilated even by the fiercest of grenades. It is also obvious that the Veep represents a present and future danger to the survival of the NDC in our contemporary politics. In his days in opposition, he constantly schooled the then NDC government on 'Economics 101' and he continues to do so even in government. An Economic Mogul he is! This assertion is not my own creation, but, a fact supported by the infamous Kwesi Botchway report, and same was reiterated by some leading members of the NDC, including but not limited to the maverick Dr. Tony Aidoo.

For the likes of Dr. Tony Aidoo, Dr Bawumia was and still remain a pain in the neck of the NDC. This is contained in his own submissions about a year ago, of which I quote, "What I missed was the inability of the NDC communication team to bring out the facts so as to challenge the comparative analysis that Dr Bawumia was making,". He strongly stressed further that, "Dr Bawumia was the Achilles' heel of the NDC. Not only for the 2016 elections but he started way back in 2012,".
The unwavering devotion of Dr Bawumia to spearhead a strategic national agenda to bring real transformation and economic prosperity to the mass of our people while exposing deficiencies of the erstwhile Mahama administration has invited a well-orchestrated and coordinated efforts to undermine his personal integrity. That said, it is easier for a camel to pass through a needle than to latch such a colossus with incompetence.

The NDC is behaving like a drowning man who is anxiously seeking anything to hold on to in the midst of a storm. Their desperation has led them to 'daily insults' rather than daily policy alternative's against the contribution of the Veep. It is gratifying to submit that, in so far as the bulwark of the Veep remains FACTS and DATA, which is often collaborated by reputable local and international organizations, the NDC and its 'rented press' shall continue clutching at straws. No amount of daggers being thrown at him can pierce his impeccable integrity.

These bring to the fore, the words of Prof. Atuguba, stated therewith. These days, one need not overburden himself by fact-checking submissions made by Dr. Bawumia. All one ought to do is to monitor the well-coordinated response of the NDC and its 'rented press' - if it is laced with insults and personal attacks rather than substance, then the obvious is the truth.

The NDC and its 'rented press' must put-up and live up to the calling bestowed upon them by the Ghanaian electorates, as the main opposition party, and provide alternative solutions as expected of them, rather than behaving like a drowning man anxiously seeking 'any port in a storm'.