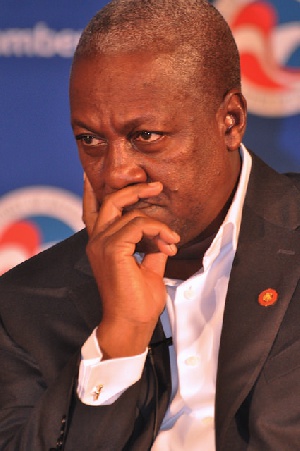 President John Dramani Mahama has now given more credence to the fact that his brand and governance record have become so unattractive that he cannot sell it to the electorate to elicit the support he needs for his re-election bid.
That is why he now thinks it makes more sense to descend into the gutter, to the level of a serial caller or a party footsoldier, in his desperate attempt to bury the real issues of concern to the electorate, by making the Presidential Candidate of the New Patriotic Party, Nana Akufo-Addo, the issue of his campaign.

On the contrary, the campaign of the NPP presidential candidate has been largely based on the very pressing issues confronting the people and the country, such as unemployment, collapse of businesses, high utility tariffs, killer taxes, corruption, naked looting of the national coffers, among others.

Unfortunately for President Mahama, these have been the very hallmark of the 8-year administration of his National Democratic Congress government, a record he ostensibly feels uncomfortable about, hence the spirited attempt to bury these vital issues in the gutter of trivialities, deceit, lies and wicked propaganda.

As a political party that has been in power for the last 8years, one would have expected the NDC and President Mahama to be telling the good people of Ghana what their record in office has been: how they have utilized the humongous amount of resources made available to them to improve upon the socio-economic wellbeing of the people.

This should have been the main feature of the campaign message of President John Dramani Mahama. But this has not been the case. He is rather focused on denigrating the personality of Nana Akufo-Addo, thinking that by that despicable campaign, which reduces him to the level of a serial caller, Ghanaians will see the NPP Presidential Candidate as unworthy of their mandate to govern the country.
Addressing a rally at Suhum, Monday, President Mahama, seeking to portray Nana Akufo-Addo as an intolerant person, urged the electorate not to vote for him in the upcoming presidential elections because he will destool chiefs who do not share his position of issues, when he becomes the president of the country.

We at the Daily Statesman agree perfectly with H Kwasi Prempeh, a renowned Law Professor, when he says this campaign message from the president "… betrays a shameful lack of basic integrity and decency."

"How can a President who knows too well that a thing is a bald-faced lie proceed to say it so shamelessly just to deceive the people for political gain. Mr. President, you are losing it! No President of Ghana in our Fourth (or even Third or Second) Republic can destool any chief anywhere in Ghana. They simply do not have that power. That is why chiefs now feel emboldened to engage in this new business of political endorsements; they know that, regardless of who gets elected, their customary positions are secure. And that is also why we no longer experience a partisan turnover in the occupants of stools and skins when national political power changes hands," Prof Prempeh posted on his facebook wall.

We borrow Prof Prempeh's advice for President Mahama: "Just because your political life is rightfully on the line does not mean you must tell cheap and baseless lies and sow the seeds of social discord and tension everywhere you go. You accuse your rival of being a divisive figure, yet throughout this campaign it is you and your surrogates that have preached a message of social division, of 'us against them', every step of the way. This is just shameful. You should be better than that."

Indeed, even though President Mahama has become hysterical because of the impending defeat staring him in the face, we believe he can be better on the campaign platform than a typical NDC serial caller.