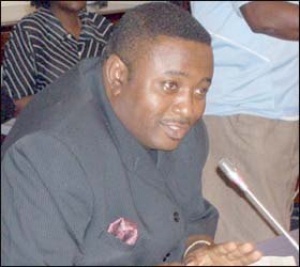 Debates on the best way of developing sports in the country have been going on in the media for some time now, and I want to contribute to the debate.
All those who have contributed to the debate so far have tendered to overlook the potential of the lesser known or least financed sporting disciplines and has tended to relegate them to the background in favour of football.

Furthermore, the debate has offered to create the impression that some sporting disciplines are of less importance in Ghana than others.

I want to point out that all the disciplines of sports have not been given a level playing field to develop to their full potential in Ghana.

When Pele became Sports Minister of Brazil, he used the money accrued from football to develop other sporting disciplines in his country, so that today you can find Brazil in the finals of the world handball, volleyball, tennis and beach volleyball, just to mention a few, in addition to the passion of Brazil, football (soccer).

In any case, in the yesteryears, that is, the 1950s to the late 1970s, sporting disciplines that were prominent or patronised in Ghana were boxing, athletics, table tennis and netball, just to mention a few.
In the 1960s and early 1970s, Ghana reigned supreme in sports on the African and world stage, to the extent that Osagyefo Dr Kwame Nkrumah, the first President of the Republic of Ghana, used sports to champion his vision of African Unity and Pan-Africanism.

Netball, for instance, was so popular during those days that it was second only to football in schools and sports colleges in the country.

The way forward for sports development in Ghana is for the Ministry of Youth and Sports and the National Sports Authority to create a conducive condition, that is, a level playing field for all sporting disciplines to develop to their full potential at least, to the Africa and Commonwealth Games standard so that if the level playing field is created for these sporting disciplines to develop to their full potential, any sporting discipline that is unable to take advantage of that conducive environment could be left behind.

In Malaysia, for example, the sports authorities built a Netball Stadium to host the 1998 Commonwealth Games. Taking a cue from that, can any sports analyst or commentator point to a netball stadium in Ghana; just as the late Prof. Mills during his tenure as President of Ghana constructed a water-based pitch and stadium for hockey in the country.

Isn't that a great motivation for hockey to develop? The lesser known or least financed sporting disciplines lack the facilities, the equipment and well trained technical personnel to realise their full potential, yet sports analysts and commentators seem to be telling them, that is, the lesser known sports, that they are responsible for their low development or in a ability to win medals at international tournaments or competitions.
Let attention be turned to the lesser known or least financed sporting disciplines so that they are provided with adequate logistics, pitches, stadia and financial support, and Ghana sports will see the massive development that will take place as far as the lesser known or least financed sporting disciplined are concerned, and here, I quote the words of Oliver Cromwell, Lord Protector of England, (1649-1659) " I do not deny a person his liberty (freedom) with the provision that he will abuse it, if the does, then judge".

The lesser known or least financed sporting disciplines have not been provided with adequate financial support and equipment, that is why they are seen as not living up to expectation or not developing in tandem with football.

Sports policy in Ghana needs to change; the authorities should make a concerted effort to uplift sports in Ghana. They can adopt, for instance, the system used by Pele in Brazil and discuss with the football fraternity in Ghana to agree for a small percentage, like five per cent, to be deducted on all gate fees at premier league matches to be put into a special fund to develop less endowed sports disciplines.

The Ministry of Youth and Sports and its sports policy implementation wing, the National Sports Authority, could convince some companies to support and sponsor the activities of specific sports disciplines, especially the lesser known or least financed disciplines to enable them develop to their fullest potential.