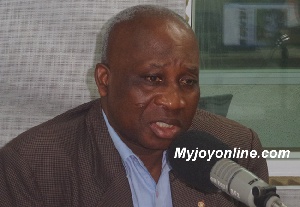 Psalm 23 "The Lord is my shepherd; I shall not want. He makes me lie down in green pastures, he leads me beside quiet waters, he restores my soul. He guides me in paths of righteousness for his namesake" ……
It was with the utmost pleasure and delight that I learned of Justice Kofi Marful Sau's nomination to the Supreme Court of Ghana. Normally, my principle and belief is not to comment or give judgement on any appointment in Ghana as with all "mortals" in sub-Sahara Africa there are serious pitfalls with praise singers. In particular, praise singers who dance and sing for their bellies to be filled.

However, with this appointment I decided to break my life- long self- imposed discipline. The reason being, some social commentators are attaching political labels to this excellent appointment, which in my opinion and the opinion of many Ghanaians is solely based on merit.

Of course, Justice Marful Sau was the Judge who threw out the Ghana at 50 case against Charles Wireko Brobbey and also a member of the panel that recommended the removal from office of Madam Charlotte Osei, Chair Person of the Electoral Commission.

Knowing Ghanaians and our obsession with party politics, any issue, debate or conversation easily turns into NPP/NDC brouhaha. If even the evidence to convict Charles Wireko Brobbey was not there, some section of our community would have preferred Justice Marfu Sau to have manufactured the evidence.

I am pretty sure that, Justice Marful Sau in his judgement on both cases would have exhibited his great leadership skills, brilliant legal brains, strong Christian beliefs (he quoted Apostle Paul in his Ghana at 50 Judgement) and his passionate belief in fairness and the rule of law.

Why am I holding brief for Kofi Marful Sau? Have I any outstanding case before the Supreme Court? The answer is a big NO. I have no intention of ever getting myself hauled before our eminent Judges nor even the Police Officer in Charge at Nkawie Divisional Police Headquarters.
The simple reason for my delight in this appointment is, I have known Kofi and the family for more than 30 years through Auntie Valerie Sackey (a doyen of the National Democratic Party). Indeed, Justice Marful's third girl was named Auntie Valerie as a mark of respect for this great lady.

For the past 30 years, Justice Marful Sau (Kofi) and his family have been welcomed into our immediate and extended family. He has become one of our trusted and closest friends in the family. Indeed, Kofi spends most of his legal vacation with the family in Manchester and is well known among the Ghanaian community attending funerals, christening and other memorable occasions in Manchester.

The first time I met Kofi, was at his humble law chambers in Osu. I was charmed by his warmth, sense of humour, oratorical skills and his magnificent knowledge of legal and economic issues. As time passed by, Kofi became one of my mentors and I will rush to him anytime I was in crisis, his advice was parental and comforting.

Ghanaians will draw strength from his example of renewal, his reconciliatory approach to issues and his love for the truth. His obvious humanity, great personal warmth and strong Christian principles will endear him to Ghanaians.

The good news is Justice Marful Sau is not a political animal but an advocate of social justice, family man, vociferous and unflinching promoter of justice and fairness. Kofi's eloquence, charm and believe in the Ghanaian identity will win over many Ghanaians. His "apolitical "views will be an asset to the Supreme Court.

If nominated, the Supreme Court would have on its benches a God fearing, peaceful, kind, loving, member. Ghana is the Winner. – WELL DONE KOFI YOUR LATE MUM WILL BE PROUD OF YOU