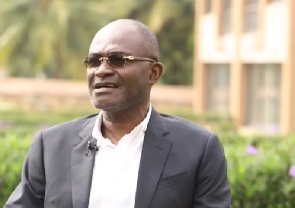 What is so wrong about Kennedy Agyapong's responsive angry outburst of giving the president and his vice a showdown when he learnt about how his agents in the Northern Region were being needlessly foolishly threatened with molestation?
Is it not often said, the buck stops here or with me….? If yes, in many a case, the boss ends up taking the responsibility or blame for the mistakes committed by their subordinates.

If this is the case, why should Kennedy be seen as insolent when he threatened to give the president and his vice a showdown when acting on the spur of the moment when the news about the insecurity of his agents was broken to him?

Were his agents not being asked to do something illegal that was against their will and the ethics of the super delegate conference voting? Should they be threatened as happened, when they refused to act in the manner that was being asked of them?

From a video I have watched, unless his male agent from the north was lying, the outburst by Kennedy helped to save him from the looming beatings or something unpalatable of the sort. According to his narrations in the video, those people ended up leaving him alone when they learnt Kennedy had been made aware of their actions and was highly annoyed, venting his anger by threatening to challenge both the president and his vice if such things were allowed to go on.

By "The buck stops with me", you mean that you have to take responsibility for something and will not try to pass the responsibility on to someone else".

I have personally on two occasions put up my hands to the failures of two of my subordinates to carry out their tasks as were required of them. Why did I do that? Was it not because of the buck stopping with the boss as in public/private service arena, thus, workplaces?
If yes, what is wrong about Kennedy seeking to hold the president and his vice responsible for the illegalities and irregularities that did take place against his agents in the north and in Techiman, as reported in the news and on social media?

Were those threatening his agents not doing so in favour of flag bearer contestant Dr. Alhaji Mohamudu Bawumia, the Vice President?

Ghanaians, please, let us be truthful for once, and hail Kennedy on this occasion because his action did save his agents and it was not in the wrong direction at all.

Maybe, I am the only odd one out there who does not see or hear properly hence not condemning Kennedy for his supposedly invectiveness towards the president and his vice.

Was it right to see Bernard Antwi Boasiako aka Chairman Wontumi, the Ashanti Regional Chairman of NPP, openly canvassing all the Ashanti delegates to vote for one person, thus, Dr. Bawumia? Is it fair?

Yes, he has every right to campaign for the candidate he supports but to compel them to vote for his candidate is a no-go behaviour that must be chastised.
All those condemning Kennedy for this action by him should please stop displaying their sorry to say, ignorance, hypocrisy and hatred towards Kennedy for all absurd reasons.

When I hear them express their views on this matter on the airwaves, some claiming Kennedy is awarded all government contracts and hence should not be praised when he helps the NPP, I have just to open my mouth wide in wonder at their ignorance.

Is Kennedy not a Ghanaian? Does he not do the contracted job as is required of him? Are the contracts not submitted for tendering but not sole sourcing? If all the answers to the posed questions are yes, then what is your problem, ye haters of Kennedy Agyapong (Hon.)?

Anyway, I love both Kennedy and Dr. Bawumia and would like to see their work as a team in government come the 2024 election and beyond, however, the current situation of lawlessness and lack of strict enforcement of the laws in the country demands that Kennedy becomes the president come 7 January 2025.

Click here to start the nomination process for the 2023 GhanaWeb Excellence Awards