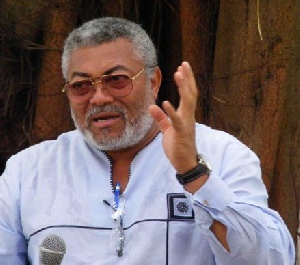 John Jerry Rawlings doesn't need an introduction to Ghanaians. All over Africa too, the Air Force lieutenant who took power in his first military coup in 1979, followed his second coup in 1981, have a lot of admirers but not everything about Rawlings is known even in his native Ghana.
When Rawlings was in power, nearly every year of his rule was marked by a coup attempt. In 1985, there was another attempt at a coup against Jerry Rolling, headed by Major Courage Quashigah. Accompanied by some of his guards Rawlings went to the Bulgarian Embassy and asked for political asylum.

His initial plan at the Bulgarian Embassy was to spend some time there while his supporters crushed the coup, therefore, he moved his family to an unknown destination and knowing that they were safe, he went to the embassy.

I saw Rawlings personally when his armour car pulled in the front of our school (Bishop Boys Middle School) at Bubiashie. A handsome tall lanky figure with full of smiles. In turn, all of us close to his tank stretched out our hands to shake him.

I believe in Europe, I get more information about African presidents than journalists at home. Since many Europeans work close with African leaders, export and import offices pertaining to Ghanaian commodities, I have been called many times on the phone and receiving documents over malpractices, over invoice and corruption in Africa.

I have refused to publish many of the documents pertaining to African leaders because Europe and America cover up crimes they commit in Africa, while they want African journalists, such as Anas Amereyaw Anas, to disgrace African leaders.
As Rawlings story unfolds: Major Quashigah and several other conspirators were sentenced and imprisoned, and later some were found hanged in their cells. According to the diplomatic rules, the embassy is the territory of another state.

When someone requests asylum, the mission officers must either accept or refused the request, that is after asking permission from the Bulgarian Ministry of Foreign Affairs.

The head of the Bulgarian mission was Kostadin Gyaurov, who is the brother of the opera singer Nikolay Gyaurov, who gave shelter to Jerry Rawlings. Later on, the Bulgarian Embassy received instructions to allow Rawlings leave or stay at the embassy as much as necessary.

In 1991, under internal and external pressure, Rawlings agreed to return to the multi-party system and civilian rule. In November 1992, he won the presidential election as a candidate for the newly formed National Democratic Congress.

Most people don't forget good things other people do for them. Rawlings, therefore, hardly forgets what the Bulgarian Embassy did for him. On the occasion of the anniversary of the Ghanaian revolution, Rawlings invites Todor Zhivkov and boldly said:
"The revolutionary forces have fulfilled its historic role. The processes that are currently taking place in Ghana, challenge us to create a truly sovereign and democratic nation."

Although we understand that this depends on our efforts as a nation, we see that by their nature Alliance socialist countries remain our natural allies."

"Ghana's revolutionary government is categorical that, along with the Allied Front, we will be able to successfully overcome the imperialist machinations in our region and direct our efforts only in economic direction," said Rawlings